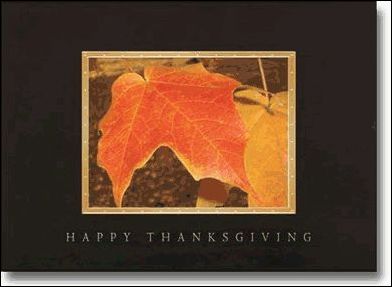 Over 99 percent of our customers recommend CardsDirect to their friends and colleagues.
Plano, TX (PRWEB) November 7, 2006
CardsDirect.com , a holiday card company, is expanding its already gluttonous line of Thanksgiving cards to an even bigger collection, says Michael Swart, Vice President of Marketing for CardsDirect – and just in time for the businesses that plan to send them out. Business owners and corporations now have a heartfelt way to express their appreciation toward employees, customers, business partners and colleagues.
Time is running out for businesses to place their order, though, he adds. According to Swart there are less than two weeks left for businesses to order Thanksgiving cards and still have time to have them printed and mailed for the holiday. CardsDirect recommends ordering before Nov. 12.
Thanksgiving cards purchased through CardsDirect can be personalized to contain the name of the business as well as a custom-made message. They can also have the company logo, photo or signatures printed using state of the art technology for a truly professional look – and additional high-quality person personalization can be included such as rich embossing, colorful foils and inks, deckle edges and lined envelopes with options for an imprinted return address.
"CardsDirect has one of the most comprehensive selections of greeting cards in the market that comes with unmatched customer service and the highest customer satisfaction levels in the industry," Swart says. "Over 99 percent of our customers recommend CardsDirect to their friends and colleagues."
Along with the thousands of small businesses and individuals who have ordered cards from the company, nine out of ten Fortune 100 companies purchase from CardsDirect for their business greetings and holiday cards. Wal-Mart Stores Inc., Verizon Communications Inc., General Motors Inc., General Electric Co. and PepsiCo Inc. are just some of the companies who have entrusted CardsDirect to supply them with greeting cards throughout the years.
CardsDirect LLC listens to customers and delivers the most comprehensive selection of business greeting cards, business Thanksgiving cards, Christmas cards and complete custom photo cards that can be tailored to meet the unique needs of their customers with unmatched customer service and satisfaction levels. Uniquely enabled by its full functional web site and available customer service representatives, CardsDirect boasts some of the highest customer satisfaction levels in the industry.
In addition to its line of business Thanksgiving cards , CardsDirect offers one of the best card selections in the market for other holidays and special occasions, including an inventory of more than 2,000 cards to choose from with various themes ranging from golf to snowflakes and everything in between. For more information, visit http://www.cardsdirect.com.
About CardsDirect LLC:
CardsDirect LLC, founded in 1998, is headquartered in Plano, Texas, and has been recognized eight years running as a distinguished dealer of greeting cards from industry leaders and manufactures. CardsDirect sells quality business cards, all occasion greeting cards, and other personalized holiday cards to tens of thousands of individuals and businesses, with orders ranging from 25 cards to 25,000. Other product lines include greetings for anniversaries, birthdays, sympathy cards, Thanksgiving and many other occasions and holidays.
Press Contact:
For more information about CardsDirect's business Thanksgiving cards and other holiday card products, or to arrange for an interview, contact Michael Swart at 1-866-700-5030 ex 107 or visit http://www.cardsdirect.com.
###