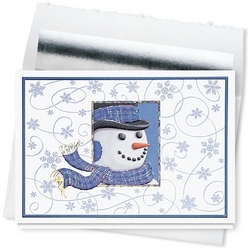 It seems there are always people looking to criticize you for not going far enough.
Ridgefield Park, NJ (PRWEB) July 26, 2007
Business, Christmas, and holiday greeting card publisher The Gallery Collection announces its 2007 commitment to wind power energy. This commitment reflects the company's greeting card stock and envelope stock, which are manufactured in mills that are fully powered by wind-generated electricity.
"We are trying to do the right thing for our planet," declared H.L. DeVore, Chief Marketing Officer of Prudent Publishing. "We want to conduct our business in a fashion that minimally impacts the environment and makes good economic sense."
The Gallery Collection's commitment to wind power actually began in 2006, but the company made the decision to stay quiet and see how the political and economic landscape developed for "green corporate behavior." DeVore admits to some reluctance about making the move to wind power, stating: "It seems there are always people looking to criticize you for not going far enough." He further comments, "These critics hurt the world and make people reluctant to do their small part. Green should not be about extremes. Green should not be a political issue. We are trying to do our small part to help the environment and send energy dollars into friendlier hands."
The Gallery Collection plans to continue its partnership with wind-powered paper mills as the company increases its utilization of low-impact resources that are environmentally sound.
Unlike fossil fuels, which produce toxic atmospheric and greenhouse gas emissions, wind power has zero emissions. As part of the growing trend of renewable energy, wind power generation quadrupled between 2000 and 2006 and has the potential to provide 20% of the nation's energy by 2030.
Currently, The Gallery Collection has 163 Christmas, holiday, all occasion and birthday greeting cards, all of which are produced in wind-powered paper mills. Additionally, 100% of The Gallery Collection's envelopes are made with green wind power.
To view this line of green eco-friendly greeting cards and envelopes or to learn more about The Gallery Collection's wind power commitment, please visit http://www.gallerycollection.com/holidaycards/windpowercards.htm.
About Prudent Publishing
Prudent Publishing is the leading publisher of premium quality personalized Christmas, holiday, and all occasion greeting cards in the United States. Established in 1929, and still family owned, the company offers direct-from-the-publisher prices that include customized personal ink imprints, a large selection of memorable greetings, and matching deckle-edged envelopes made of recycled paper.
Contact:
Greg Koizim
(201) 641-7900 x427
###