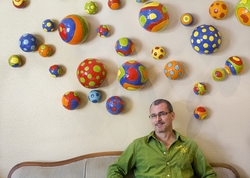 "I'm leading the economy into recovery," he jokes.
(PRWEB) May 6, 2010
Gregory Story has balls, and they're taking him places on the nation's fine arts fair circuit.
WallBalls, three-dimensional ceramic wall sculptures created only by Story, are so popular among collectors that sales in his first three shows this year have doubled, bucking economic trends.
"I'm leading the economy into recovery," he jokes with visitors to his art show booth, where WallBalls soar over decorative ceramic bottles and totems, the earth-bound ancestors of his wall sculptures.
WallBalls adorn multi-story foyers, climb stairwells and span any space suitable for two-dimensional works as well as unconventional spaces, such as windows and door surrounds, Story said. Artful use of lighting and shadows lends a potential fourth dimension to his sculptures.
Their strong sales even at the recession's worst in 2009 allow Story, an art fair veteran, the freedom to be selective this year, so he's set a course for top shows.
He will log more than 10,000 miles on the art fair circuit this year, exhibiting at Lakefront Festival of Arts June 18-20 in Milwaukee and Cherry Creek Arts Festival July 3-5 in Denver. When summer shows are behind him, Story will fix a hopeful eye on invitations to The Plaza Art Fair in Kansas City and Bayou City Arts Festival Downtown in Houston this fall.
Life on the road suits the Texas-based artist recently profiled by The Dallas Morning News. Story left a good job as a museum special events director to preside over his own exhibitions at fine arts festivals across the country and in galleries in his home market of Dallas-Fort Worth.
"Art fairs allow me the closest contact with my collectors, and I'm a social animal. A patron in my booth is like a guest in my home, and I love entertaining. Obviously I love travel and find inspiration everywhere: the Chicago skyline, New Orleans' joie de vivre, and the creative milieu of Taliesin," Story said. "(Frank Lloyd) Wright was constantly building, rebuilding, trying new things, and I find that constant search for the new invigorating."
Creative evolution produced Story's bestsellers. WallBalls took flight after potential collectors worried that pets or children would tip over his totems, three-dimensional sculptures rising from the ground up.
"So I put the totems on the wall," Story said. The rest is history.
WallBalls debuted in 2008. "The first year, collectors had to see them," Story said. "The second year, collectors bought, and now in the third year, they're building their collections" and propelling Story to his best year in six as a full-time fine artist.
There is a moment when every artist knows he has arrived. For Story, it came when he ran out of olive WallBalls on his first day at last year's New Orleans Jazz & Heritage Festival.
"I knew I had something," he said.
###