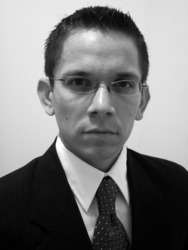 Pablo has the energy and personality to pull the constituencies in Grenada together to pursue our vision of the future.
Grenada, MS (PRWEB) July 29, 2009
Coley Bailey, Chairman of the Grenada County Economic Development District (GCEDD), announced today that Pablo Diaz has been selected as Executive Director of the organization.
"We were pleased and grateful to have received a good number of very strong applications. The board, acting in consultation with representatives of the County Board of Supervisors, the Grenada City Council and the Mayor, the Grenada Industrial Foundation, and the Chamber of Commerce chose Pablo unanimously. We are very excited that he has accepted our invitation to join us in working to strengthen Grenada's economic vitality," said Bailey. "Pablo is already working hard on the Grenada Means Business.com website, and on developing presentations he plans to give to business and community groups during his first weeks in the job to explain his role and share ideas," Bailey added.
Chad Gray, Chairman of Grenada County Board of Supervisors, says "I was very impressed with Pablo when I first met him, and with each successive meeting I get more enthusiastic." Reverend Ernest Hargrove, a City Council Member who participated in the interview process, added "Pablo has the energy and personality to pull the constituencies in Grenada together to pursue our vision of the future."
TVA Manager of Field Operations Tim Weston adds, "We at TVA have followed Mr. Diaz's economic development career and accomplishments, resulting in a proven track record for creating jobs and capital investment in a community. He is very professional and well grounded in economic development, and TVA looks forward to working with him in Grenada County."
Mr. Diaz, a native of Mexico, began his career in economic development in Meridian, MS where he spent several years with the East Mississippi Business Development Corporation. From there, he moved to serve as the Business Recruitment, Retention, and Expansion Manager for Martin County, FL, where, among his achievements, he developed and implemented a business retention program recognized as one of the top 10 best BR&E programs in the United States.
Diaz holds a bachelors degree in Accounting from the University of Yucatan, and a masters degree in Economic Development from the University of Southern Mississippi, where he also served as a researcher. Diaz is a Certified Economic Developer, a member of the International Economic Development Council, and a graduate of the Economic Development Institute of the University of Oklahoma. He arrives in Grenada with his wife Amber, a native of Sandersville, MS, and their five-month-old daughter, Maya. His official starting date will be August 3, in the Economic Development District offices located at the corner of First and Main in downtown Grenada.
"I am humbled and excited to have the opportunity to help the citizens of Grenada capitalize on the incredible array of assets available to the community. I am certain that, with the support and help of the community, we can build a compelling future for Grenada. I look forward to meeting everyone and to working aggressively in promoting the GCEDD mission. My family and I are excited to be coming home to Mississippi," said Diaz.
The GCEDD Board is nearing to completion of the strategic planning process begun six months ago. the GCEDD Board has conducted mock site selection visits, completed community surveys, built awareness among key constituencies of Grenada's many assets, and begun to build various tools Grenada will need in order to be successful. The tools include a Target Industry Study, to help focus recruiting efforts on industries the county is best suited to serve, the development key marketing messages, methods, and materials, and various tools for evaluating the expected economic impact of particular projects.
The Grenada County Economic Development District (GCEDD) is the county's lead economic development organization.
# # #