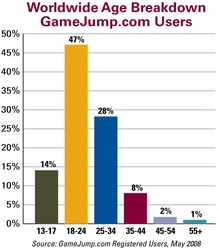 The type of targeting data that Greystripe uses is invaluable for the mobile ad industry to take off, as advertisers need to understand who they are reaching
SAN FRANCISCO (PRWEB) June 6, 2008
According to Greystripe's results, a significant number of mobile gamers are part of a coveted demographic in the advertising world. No longer the territory of just middle-aged women, Greystripe's 800+ games are the most popular among the sought-after 18 to 34-year old age group. 68% of Greystripe's GameJump users in the United States, and 75% of users worldwide, fall between 18 and 34 years old. Additionally, Greystripe's users are split almost evenly amongst men and women. Consumers in the U.S. are split 60% male-40% female, confirming that mobile gaming does reach both men and women.
Greystripe's data disclosed even more in-depth, valuable information about its audience. For instance, 51% of GameJump's users are the primary purchasing decision makers of the household, with another 39.2% sharing the responsibility. So, in all, 90.2% of the consumers exposed to advertisements on the Greystripe network have the power to make purchasing decisions for their families. This is an obvious advantage to advertisers. In addition to this benefit, Greystripe's advertisements have shown an astonishingly high click-through rate of 10.1% worldwide. In other words, Greystripe's CTRs, which are one measure of brand engagement, are 6x higher than those found in traditional mobile advertising such as banner ads, which have an average CTR of 1.5%.
"The type of targeting data that Greystripe uses is invaluable for the mobile ad industry to take off, as advertisers need to understand who they are reaching," said Christine Perey, Research Analyst at Perey Research & Consulting. "In particular, this type of data will allow mobile to bring brands closer to their best prospects and engage with their most loyal customers. Greystripe helps move advertising beyond lead generation towards interactive and, eventually, transactional experiences."
Insight into the habits of mobile game-playing consumers provides information necessary for more effective advertising and also serves to improve the user experience. The increased knowledge into which games consumers are looking for allows advertisers to target their message more efficiently and allows distribution partners to merchandise the games users want. Since the company launched GameJump and the AdWRAP Catalog Program in 2006, over 65 million ad-sponsored games have been downloaded with the average gamer playing each game a total of 66 minutes.
"By amassing our user data, we are able to continue moving towards our two main goals: creating both the most engaging brand advertising experience and an amazing player experience all the way from download to game play," said Michael Chang, CEO of Greystripe. "The more we know about our users, the more we can do to ensure that they are having fun with our publishers' games."
More insight into Greystripe's consumers is available for free to anyone interested by e-mailing insights@greystripe.com. This data includes: which game devices users own, what carriers they use, the top 20 downloaded games, and more personal information, such as how many kids they have, what types of soda they drink, how often they go to the movies and what kind of cars they drive.
About Greystripe
Greystripe is the world's first and leading ad-supported mobile games and applications distribution platform. Greystripe's AdWRAP product suite enables: brand advertisers to communicate their brand message to a unique mobile audience; publishers to gain advertising revenue by serving ads through their games; and consumers to download high quality games for free. The AdWRAP system is protected by a broad array of patents pending and currently serves ads into more than 800 game titles from 100 publishers supporting over 1,400 handset models. Greystripe reaches millions of mobile game players by powering over 70 AdWRAP Catalog distribution partners and through GameJump.com its online and mobile web portal com (http://www.gamejump.com/). Greystripe was named an AlwaysOn OnHollywood 100 winner 2008, a Red Herring Global 100 winner in 2007 and the Under the Radar Best in Show: Mobility winner in 2006.
Visit Greystripe at http://www.greystripe.com.
1 The data was gathered from GameJump.com from February 15 through May 15th, 2008 and from Greystripe's AdWRAP Catalogue Partners, as well as from independent studies conducted by Dynamic Logic and Insight Express.
MULTIMEDIA GALLERY http://www.businesswire.com/cgi-bin/mmg.cgi?eid=5702840