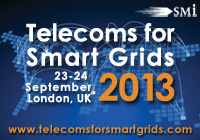 London (PRWEB UK) 1 June 2013
SMi's 3rd annual Telecoms for Smart Grids conference will provide a working knowledge of modern Smart Grid telecommunication methods and technologies currently being deployed by today's electric utility companies. Technologies include a variety of data transport services and network architectures, including conventional two-way private radio systems, SCADA, protective relaying and the need for high voltage protection circuit reliability.
The two-day programme will emphasise the importance of physical and electronic security in maintaining grid operations while ensuring that regulatory compliance requirements are met with eleven Utility Case Studies provided. Additionally, a complete overview of technologies used to monitor and control wide area transmission and distribution power grids will be featured and includes fibre optics (SONET-DWDM, RPR), wireline, (DSL, WAN, MPLS, LAN-Ethernet) wireless, (Mesh, WiMAX, LTE, HSPA, GPRS, Zigbee, WiFi, Satellite VSATs, cellular, terrestrial microwave), Broadband Power Line, and Power Line Carrier systems unique to the Smart Grid.
Key points of discussion for this year's 3rd annual Telecoms for Smart Grids conference include 11 UK and European Utility case studies, discussing:

Connectivity requirements for the deployment of Smart Metering, Distribution Network upgrades, and Substation Automation
Data Communications and how they will be managed
Connectivity and Selection Criteria
Coping with increased demand electricity
Private mobile networks
Design and implementation
End to end testing
Data Optimisation over RF Mesh networks
Key Speakers include:

Ashley C. Brown, Counsel to Greenberg Traurig, and Executive Director Harvard Electricity Policy Group, Harvard University
David Ross Scott, Industry Relationship Manager, Scottish Power
Denis O'Leary, Head of Smart Energy Technologies, ESB
Gordon Hewitt, ICT Project Manager, Scottish and Southern Energy
Marcus Smith, Solutions Architect, Cisco
Markus Hofsaess, Technology & Solutions, E.ON
Tim Manandhar, Low Carbon Solutions Design Manager, UK Power Networks
Erik Moll, Telecom Policy Advisor, Alliander
Giovanni Coppola, Innovation Manager, Enel Distribuzione SpA
Gunnar Hoffman, Manager of Technology Corporate R&D, RWE AG
Milo Broekmans, Senior Enterprise Architect, Stedin
Nigel Bessant, Project Delivery Manager, Scottish and Southern Energy
Sanna Atherton, Senior Project Manager, Western Power Distribution
Get Smart with Business Process Models Post-Conference Workshop
Led by Hippo Software | 25th September 2013, London, UK
Smart grid projects introduce new technologies and ways of working that need to be incorporated into existing infrastructure and established businesses. This interactive workshop teaches delegates how to understand and document business processes; and assess the impact of change on the business – to prepare and enable the business to implement and support new and innovative technologies.
For more information, visit http://www.smi-online.co.uk/2013telecomsforsmartgrids8.asp
Alternatively, contact Aaron Jackson on tel: +44 (0) 20 7827 6064 or email ajackson(at)smi-online(dot)co(dot)uk