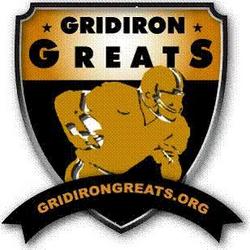 The support shown today by this group of active players is really meaningful
Minneapolis, MN (PRWEB) December 11, 2007
At a press conference hosted by Mike Ditka today, Matt Birk, Center for Minnesota Vikings, and several other current NFL players announced their participation in "Gridiron Guardian Sunday", the grassroots humanitarian effort to aid retired players in dire need. Five of Birk's teammates, including Steve Hutchinson, Anthony Herrera, Ryan Cook, Marcus Johnson and Ben Leber, attended the event in show of support.
The "Gridiron Guardian Sunday" initiative was created by Kyle Turley of the Kansas City Chiefs as a way for active NFL players to help their brothers, and will provide aid to scores of NFL retired players in dire need through the Gridiron Greats Assistance Fund. Also in attendance at today's press conference were a group of NFL Legends, including former Minnesota Vikings, Ed Marinero, Jim Marshall, Paul Krause and Chuck Foreman. They participated in a forum with the current players about the issues facing retired players.
"The support shown today by this group of active players is really meaningful," said Pro Football Hall of Fame member, Paul Krause. "We, the retired players, are so grateful that they have stepped forward to show their support."
Birk announced that he will donate a portion of his game check from the game on December 23. He presented a check to Mike Ditka for the Gridiron Greats Assistance Fund and spoke about why he felt compelled to participate.
"I feel like this is the right thing to do; players and owners today all prosper because of the men that came before them. Many are suffering through no fault of their own," said Matt Birk. "This is an epidemic that is affecting retired players and their families, from all eras; I see this as a humanitarian issue. When I came into the league I was told that the NFL is a brotherhood and we would always be part of that brotherhood, so it's only right for us to help our brothers."
Turley, who will be donating his entire game check from his December 23 game against the Detroit Lions, also attended. He disclosed the names of other active players from around the NFL that will participate in "Gridiron Guardian Sunday". Turley announced that Larry Johnson, Tony Gonzales, John Welborn, Ephraim Salaam and Kawika Mitchell will be among a large group of active NFL players who will all participate and make donations. One hundred percent of the players' donations are used to provide aid to retired players. No portion of their donations are used for any expenses or overhead of the Gridiron Greats. This initiative is about players helping players.
December 23, 2007 has been designated by a group of active NFL players as "Gridiron Guardian Sunday." Turley is coordinating this effort with active NFL players to help retired players in dire need through the Gridiron Greats Assistance Fund , an IRS §501(c)(3) charitable and humanitarian organization founded by Jerry Kramer and overseen by Mike Ditka, Gale Sayers and many other NFL Legends. The fund is a service organization that provides financial assistance and the coordination of social services to retired NFL players in dire need. Information about the initiative, player's stories and more is available at gridirongreats.org. The public can also make donations online.
"I look at Matt Birk, and all these guys here today, and know as a group that we, as active players, can make a difference. I am asking all the active players to educate themselves and look around; go to the gridirongreats.org website. I am asking each and every player to step up and participate. Whether it is a small or large donation, it does not matter; you can choose to remain confidential or to be public. Go to the site and call us at 1-800-708-1078. We are also sending another donation form out this week, so signing up is easy," said Turley. "The work Coach Ditka, Gale Sayers and the rest of the GGAF are doing, not only is necessary, but it is improving the lives of many of our brothers."
"I also have a message to all retired players," Turley continued. "If you are hurting, if you have had or are having a hard time getting disability, charitable support or services from the NFLPA, NFL and their related organizations, call the Gridiron Greats at 1-800-708-1078 or email them at gridirongreats24 @ aol.com. We want to hear your stories and we want to help."
"I can't begin to express what the support of Matt Birk, and the support of the others, means to the Gridiron Greats and all retired players. The response of the active players to "Gridiron Guardian Sunday" has been amazing. The money is certainly needed and will go a very long way. But more important is that retired players are seeing these guys come forward and knowing that active players care. It's wonderful what they are doing to help their brothers in need," said Mike Ditka, board member of the Gridiron Greats. "By some of the reports out there, the NFLPA and NFL Alumni would like to have you believe that there are not many guys suffering. They have said that there were not enough guys to help so they had to broaden their giving and support things like a hip hop festival in DC, while many of their own cannot buy food or medicine. Just the last few weeks alone, our small organization has taken in 13 applications of new players in need, and calls come in every day. This is a crisis and many players are now finding their way to us due to the coverage. Because of the generosity of the guys like Matt Birk, Larry Johnson, Kyle Turley, Tony Gonzalez and the many others, the Gridiron Greats will now be in a position to immediately help so many more guys."
Today, Mike Ditka also personally donated to the December 23, "Gridiron Guardian Sunday" initiative and presented a check for $25,000. He then announced he was dissolving the Ditka Hall Of Fame Trust. Half of the remaining funds from that Trust will be donated to the Gridiron Greats Assistance Fund while the other half will be donated to Misericordia, home to children and adults with mental disabilities located in Chicago. The Ditka HOF Trust is completely separate organization from the GGAF. It was started in 2004 to help only Hall of Fame Players. In the past several months, the Ditka HOF trust has provided $153,000 to players that Gridiron Greats has assisted and then referred to the Ditka Trust as part of the services "GGAF" provides. The GGAF will administer money donated by the Trust through its social services and financial aid programs.
"Words cannot explain what an impact this money will have on the Gridiron Greats organization. We will be able to immediately help so many more guys. We have a committee of professionals who volunteer their time and act as custodians of the funds and are committed to administering the funds with responsibility and great care," said Jennifer Smith, Executive Director of the Gridiron Greats Assistance Fund.
For more information, or to schedule an interview with current and former NFL players participating in the initiative, or members of the Gridiron Greats Board of Directors, including Mike Ditka, Gale Sayers, Willie Davis and Harry Carson, call Jennifer Smith, Executive Director of Gridiron Greats Assistance Fund at (920) 499-7133. Additional information is also available at http://www.gridirongreats.org.
Contact: Jennifer Smith, Gridiron Greats
Phone: 920-499-7133
Email: gridirongreats24 @ aol.com
http://www.gridirongreats.org
###