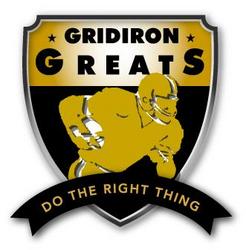 If the Ditka HOF Trust has not dispersed a lot of player grants, perhaps it is because players are just now finding them
Chicago, Illinois (PRWEB) December 8, 2007
Members of the Gridiron Greats organization read with outrage the story written by Richard Willing published in USA Today regarding the Mike Ditka HOF Trust and the NFL charitable giving.
The Gridiron Greats Assistance Fund ("GGAF") is an independent 501(c) (3) charitable organization that has been in existence for less than a year. The GGAF was founded by Jerry Kramer and is overseen by a Board of Directors including Mike Ditka, Gale Sayers, Willie Davis, Harry Carson and others. The GGAF organization is completely separate from the Mike Ditka Hall Of Fame Trust ("HOF Trust"), which was referenced in the December 7, 2007, USA Today story, and up until recently only serviced Hall of Fame players in need. The two organizations are in no way connected.
In about six months, the GGAF organization has provided over $100,000.00 in financial aid and a wide range of services to dire need players. GGAF has posted an overview of some of the grants and case histories of some of the people we are assisting at http://www.gridirongreats.org. Also posted are comments from players GGAF has helped and other retired players in response to the USA Today article. The USA Today story comes in a week when celebrities as well as a current NFL players announced donations and public support to the GGAF.
The story suggests that the efforts of groups like the Ditka HOF Trust and Gridiron Greats are unnecessary. The Gridiron Greats suggest that USA Today, along with the NFL spokesmen quoted in the story, might want to ask players such as Dwight Harrison, Brian Demarco, Tim Harris, Willie Jones, Henry Ford, Willie Wood, Mike Mosley, Dave Pear and many other players who our organization has helped what they think. All have been assisted by the Gridiron Greats and some have received additional support from other non-NFL affiliated charitable organizations. It appears that supplemental support, in addition the modest amounts the NFL or NFLPA might be providing to retired players, is absolutely needed.
"As to the HOF Trust, GGAF can only observe the compassion, commitment and selfless approach taken by Mike Ditka when it comes to helping people," said Jennifer Smith, Executive Director of the GGAF. "Recently, we have started referring players to the Ditka HOF Trust as part of our services in helping players to secure additional aid from other organizations. In just the last several months, the Ditka Hall Of Fame Trust reported to us it has provided over $153,000 to players referred to it by the GGAF. When it knows about players in need, the Trust helps them," said Smith. "If the Ditka HOF Trust has not dispersed a lot of player grants, perhaps it is because players are just now finding them," added Smith.
In response to the USA Today article, Mike Ditka had this to say: "It is unfortunate that the media has to attack something that is good. My only goal is helping people. We are doing that and will continue to do so," said Mike Ditka. "What the Gridiron Greats is doing is what the NFLPA, NFL and the owners have not done -- which is showing compassion and responsiveness to the needs of those in need that have played this game. The disability system is at best dysfunctional, so much so it is being investigated by the United States Senate," said Ditka. "There is over a billion dollars in their disability fund and only a very small amount of players are receiving disability and many of those are not at adequate levels. Hundreds of players are denied, turned away or ignored. We are doing the right thing and will continue to do the right thing. I sleep well at night. I wonder how those people at the NFLPA sleep? We will continue with our work providing services and being a support system for the many that have been shunned and turned away by their own union," added Ditka.
"This clearly shows the NFLPA is intent on protecting their flawed system and billions of dollars by causing distraction and trying to take away attention from outrageous treatment of retired players. With regard to Mike Ditka, he is one of the most generous people I know. Anyone who would say otherwise is clearly telling lies for self-serving purposes," said Kyle Turley of the Kansas City Chiefs, who just donated an entire game check to the Gridiron Greats.
The USA Today story also suggests the NFL and the NFLPA are pouring unlimited dollars into charities to help retired players, but they have had to broaden their gift giving because too few players sought help. Willing writes that the NFL Alumni have now granted monies to: an orthodox Jewish day school for a new basketball court -- $30,000.00; a hip-hop festival in Washington DC, an American Indian health center and a park in Ohio.
"The GGAF has been called by numerous guys who can't feed themselves or their families, guys who are disabled and can't afford medicine or medical care," said Jennifer Smith "Gift-giving is all good, but for groups such as the Alumni, should they not make a better effort to help their own? It is hard to understand how these grants to unrelated groups are noteworthy enough for USA Today to publish. Ditka gets criticized by the paper for not giving out enough money to former players, but the Alumni and union seems to be praised for funding a hip hop festival in DC. How absurd. Seriously, how do these things become newsworthy in contrast to, and in the same context with, a story about grass-roots charities that are trying, largely through volunteers, to assist the guys who built the game -- and yet are starving and dying slow deaths due to their time in the NFL and the lack of support they have received from their union after retirement," added Smith.
While the NFL numbers might look impressive for a multi-billion dollar organization, is $600,000.00 really so large when you consider almost every NFL player comes away with a permanent injury? The NFL Alumni, which is another large organization, only gives away $166,000.00 per year.
Frank Krauser, President and CEO of the NFL Alumni, was quoted in the USA today story, "The Ditka and Kramer charities," Krauser said, "overlap the older and richer groups and compete for a limited pool of potential recipients".
"Charitable giving is not about competition, but the quote gives you the mindset of the old guard. How can one compete for recipients? We did not realize this was some sort of competition. It has been our experience that the pool is not limited. There are many former players and their families that need help and new guys reaching out every day," said Jennifer Smith. "If they were getting adequate and immediate help from the charities mentioned in the story would they be calling us? Our entire organization thinks that this is very telling as to their approach to helping people. The choice of the word "overlap" is interesting, as to our knowledge very few, if any, of the people that GGAF is helping have received any assistance from Krauser's group," said Smith. "The GGAF thinks Krauser, the NFLPA and the NFL should consider applauding the efforts of the Gridiron Greats and other private organizations for helping their fallen brethren."
In response to the story the Gridiron Greats office received a significant number of e-mails and calls from players that have been assisted and others; many are posted at http://www.gridirongreats.org.
"I applaud and appreciate all that Coach has done I can't say enough about how grateful my family is to Coach Ditka for his immediate response when we called the Gridiron Greats for assistance in a time of extreme need. Not only did he respond with financial assistance, but his Gridiron Greats staff coached us through our difficulties every step of the way. Coach Ditka has set up a great support system for retired players who have nowhere to turn for immediate help," said Henry Ford former Houston Oiler/New Orleans Saint in need.
"If it was not for Mike Ditka and The Gridiron Greats I would have been unable to eat this week, they have been a great support system for me and my family," said Willie Jones, former Kansas City Chief who has permanent injuries.
"It is so disheartening to see Mike Ditka's character assassinated in light of the tireless way he has fought to protect and support the retired players with absolutely no thought of personal gain. Mike has allowed himself to become 'the face of the cause' because the men who built this game needed someone to draw attention to the issue -- someone to stand up for their rights and shout 'Do the right thing!' to those that run the $7.2 billion dollar empire known as the NFL," said GGAF board member Gale Sayers.
A Gridiron Great press conference is planned for Tuesday, December 11th at 11:00 a.m. in Minneapolis. Mike Ditka and Minnesota Vikings legends Chuck Foreman, Ed Marinaro, Carl Eller, Jim Marshall and Paul Krause will host a press conference that will feature a group of active NFL players who will come forward and announce their participation in the humanitarian relief effort underway to aid retired players in dire need. Kyle Turley, of the Kansas City Chiefs, will announce the latest NFL players who have signed on to participate in the ground breaking December 23rd "Gridiron Guardian Sunday " initiative, including several players who will be at the press event. Information is available at http://www.gridiongreats.org.
Contact Information:
Jennifer Smith
(920) 499-7133
gridirongreats24@aol.com
# # #