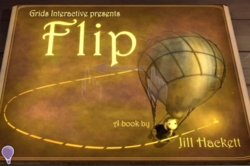 The Flip: Interactive Storybook has taken the traditional "flip-book" into the digital age and really brings something new and fresh to the app world
Los Gatos, CA (PRWEB) March 29, 2012
Grids Interactive today announced the release of the "Flip: Interactive Storybook" App into the iTunes App Store. Made for the iPad, iPhone and iPod Touch, Flip: Interactive Storybook is a groundbreaking fully digital children's app featuring world-class motion picture quality 3D animation, state-of-the-art audio and a fully original musical score.
The Flip: Interactive Storybook has taken the traditional "flip-book" into the digital age and really brings something new and fresh to the app world," stated Sam Berman, CEO of Grids Interactive. "It is a truly captivating, engaging and immersive experience, that we think children are absolutely going to love. There is just nothing else out there like it right now. We hope Flip will encourage reading by engaging children of all ages with it's distinctive style and unique interactivity."
Grids Interactive has pledged to donate 10% of the net proceeds from the app to the Huntsman Cancer Foundation for cancer research at Huntsman Cancer Institute (HCI) in Salt Lake City. HCI is part of the University of Utah's Health Care System and serves thousands of cancer patients throughout the Intermountain West each year.
Grids Interactive is committed to creating products that entertain, enlighten and engage young readers. Using characters, words and stories along with interactive illustrations and music, Grids Interactive seeks to inspire the new generation with a passion for reading and learning. Flip: Interactive Storybook is Grids Interactive's third children's app. Other apps include The Truly Great Noodle that benefits Kids Against Hunger and Surf Angel benefiting The Make-A-Wish Foundation.
About Grids Interactive
Founded in 2010, Grids Interactive is an independent publisher of original interactive storybook apps. They are redefining the way children read, learn and engage with their stories. For more information on the company and future books, please visit http://www.gridsinteractive.com.
About Huntsman Cancer Foundation
HCF's sole purpose is to fund research, education, and treatment programs at HCI. HCI's founders, the Jon M. and Karen Huntsman family, have donated more than $341 million toward the development of HCI and the Huntsman Cancer Hospital. Seeded by family funds, HCI is owned by the state of Utah and the lifesaving research is now sustained by the philanthropic support of thousands. Every single gift is vital to HCI's efforts. The mission of HCI is to understand cancer from its beginnings, to use that knowledge in the creation and improvement of cancer treatments, to relieve the suffering of cancer patients, and to provide education about cancer risk, prevention, and care.
###