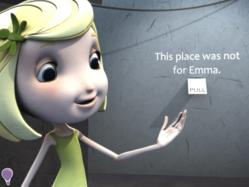 Flip is an exciting addition to our product lineup, because it provides a whole new level of 3D animation, coupled with interactivity that will engage children on a higher level
Los Gatos, CA –
December 30, 2011 (PRWEB) December 30, 2011 -- Grids Interactive, an independent digital publisher of original interactive storybooks for the iPad, announced today that they will be adding a new interactive storybook to the company's digital storybook lineup. Flip, which will be released in late January 2012, will provide a unique interactive experience with amazing 3D graphics and full user interaction with multiple touch points.
The Flip storybook app was originally developed as an animation short, where it won 5th place in the prestigious future@motion 2010 competition. Grids Interactive adapted the short into an app to include many interactive touch points, providing the viewer with a totally unique and immerse experience. Flip emulates the traditional childrens' popup books and does it in a unique digital way, making Flip highly interactive for the reader.
"Flip is an exciting addition to our product lineup, because it provides a whole new level of 3D animation, coupled with interactivity that will engage children on a higher level," stated Brett Alter, co-founder of Grids Interactive. "I fully anticipate that Flip will become one of the top selling children's apps in the iTunes store."
Grids Interactive is committed to creating products that entertain, enlighten and engage young readers. Using characters, words and stories along with interactive illustrations and music, Grids Interactive seeks to inspire the new generation with a passion for reading and learning.
Watch for the debut of Flip this January 2012 in the iTunes store!
About Grids Interactive
Founded in 2010, Grids Interactive is an independent publisher of original interactive storybook apps. They are redefining the way children read, learn and engage with their stories. For more information on the company and future books, please visit http://www.gridsinteractive.com.
###