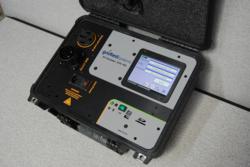 We're delighted to close this funding round, which crucially allows us to target all our priority markets with a key product that our customers and prospects have been telling us is urgently needed. ~Neal Roche, CEO, Gridtest Systems.
Los Angeles, CA (PRWEB) March 20, 2012
Gridtest Systems Inc., an independent provider of high-value test and measurement tools for electric vehicle (EV) charging, announced it has closed a seed investment round with Pasadena Angels and Tech Coast Angels. This initial round of external investment enables Gridtest Systems to accelerate the launch of its first product, the EV Emulator EVE-100L, which solves critical test and measurement problems for R&D labs of major charging system manufacturers and product suppliers.
"We're delighted to close this funding round, which crucially allows us to target all our priority markets with a key product that our customers and prospects have been telling us is urgently needed," said Neal Roche, CEO and founder of Gridtest Systems. "We're pleased that angel investors have recognized our achievements to date and our commitment to becoming a leading player in the electric vehicle infrastructure testing market."
Pasadena Angels and Tech Coast Angels invested in Gridtest Systems after it demonstrated market traction with key customers in Europe, North America and Asia-Pacific.
"Gridtest Systems is a critically important player in the development of the electric vehicle charging market. The company has a strong and experienced management team, innovative technology, and a clear marketing strategy. We look forward to partnering with Gridtest in its drive to meet the needs of its leading-edge customers," said Ian McGregor, Pasadena Angels board member.
"Gridtest is a perfect example of the type of Los Angeles-based startup we are looking to invest in," said DC Palter of Tech Coast Angels. "In addition to capital, we will provide Gridtest with our collective resources and experience to help them bring their products to market and make them a leader as the clean-technology industry continues to mature."
The nascent electric vehicle market requires a dependable charging infrastructure
The fast-growing EV Charging industry faces challenges that require advanced test tools. Pike Research forecasts that EV Charger annual sales will reach $4.3 billion by 2017. Already, a variety of companies are supplying electric vehicle charging stations (known as EVSEs) to utility companies, EV service providers, and automotive companies. These entities need to ensure compatibility between charging stations and the new generation of plug-in electric vehicles (PEVs) that are entering the marketplace. Recently, General Motors presented a list of compatibility problems that can prevent electric vehicles from charging, highlighting the need for detailed testing of the compliance of charging stations to the EVSE standard SAE J1772™. For successful market adoption of electric vehicles, consumers must be assured of a safe and reliable charging experience every time they plug in their vehicle.
Gridtest Systems' technology addresses an urgent need along the EV value chain
The EVE-100L is the most advanced, independent EVSE test instrument available today. It can run automated tests and report on the functional compatibility of electric vehicle charging stations, enabling the R&D labs of the major manufacturers of charging stations and independent test laboratories to quickly verify the correct functioning of charging stations. Until now, EVSE suppliers factored weeks or even months to comprehensively test a new charging station; the EVE 100L product reduces this by a factor of ten, accelerating their time to market.
The EVE-100L goes beyond simple EV simulator tools by analyzing key parameters that cause compatibility problems with electric vehicles, such as charger state transition timing or false ground-fault trips. The EVE-100L also verifies that the charger can support the maximum advertised current to emulate realistic electric vehicle loads. It records highly accurate measurements and generates comprehensive test reports that aid additional analysis.
In the second half of 2011, Gridtest Systems announced the EVE-100J, a field-test version of its EV Emulator tool, which is used by EV service providers and electrical contractors for installation testing and preventative maintenance on EV charging stations.
The EV Emulator can test charging stations worldwide that conform to SAE-J1772™, IEC 61851-1 and IEC 62196-2 Type 2 Mode 3, vehicle inlets.
*EVSE stands for Electric Vehicle Supply Equipment which is the industry designation for Level 1 and 2 Charging stations. SAE J1772™ is a trademark owned by the Society of Automotive Engineers.
About the Pasadena Angels
Founded in 2000, the Pasadena Angels is a group of leading private investors that provides long-term intellectual and financial capital to help build successful companies throughout Los Angeles and Southern California. Their members, with many years of collective leadership experience, provide the resources and experience to ensure the success of their portfolio companies. The Pasadena Angels invest in early stage companies in a broad range of industries, including but not limited to technology, that have the potential to build sustainable and successful businesses. The Pasadena Angels charges no fees for its services. http://www.pasadenaangels.com
About Tech Coast Angels
Tech Coast Angels, the largest organized angel investor group in the United States, provides funding and guidance to more early-stage, high-growth companies in Southern California than any other investment group. Since its inception in 1997, TCA members have focused on building valuable companies, personally invested more than $115 million, and helped more than 187 portfolio companies attract more than $1.4 billion in additional capital, mostly from venture capital firms. TCA members give companies more than just capital; they also provide counsel, mentoring and access to an extensive network of potential investors, customers, strategic partners, and management talent. TCA has more than 300 members, including its venture capital affiliates, in five networks in Los Angeles, Orange County, San Diego, Central Coast, and the Inland Empire. http://www.techcoastangels.com
About Gridtest Systems Inc.
Gridtest Systems is a California-based startup that develops EV test and measurement products for labs and installers. Its EVSE Tester (called EVE — Electric Vehicle Emulator) comprehensively and automatically tests SAE-J1772™ (IEC 62196-2 Type 2 Mode 3) charging stations with full traceability. There are two versions: EVE-100J for installers (a simple version for rapid verification of the correct and safe operation of EVSEs); and EVE-100L for lab testing (a more elaborate test product with more detailed test suites and results, aimed at EVSE manufacturers and research laboratories). Gridtest Systems is the winner of the 2011 California Cleantech Open business competition and accelerator, and was accepted into the Los Angeles Cleantech Incubator (http://www.laincubator.com). Gridtest is a registered Trademark of Gridtest Systems Inc. For more information, contact Gridtest Systems at http://www.gridtest.com or call +1.214.986.8559.