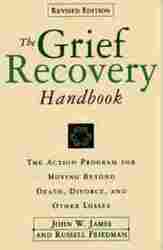 that they were in the denial stage when all they'd said was that they were having some difficulty since their loved one died.
Sherman Oaks, CA (PRWEB) October 16, 2008
At long last, Grief Recovery pioneers, Russell Friedman and John W. James, clear up the decades-old debate about what grief really is what it definitely isn't. If you don't read past this paragraph, make sure you read the article,The Myth of the Stages of Dying, Death and Grief which will cause you to re-evaluate everything you've ever heard about the stage theories that have been applied to grief.
For nearly 40 years our society has used and misused the alleged stages of dying first popularized by Elisabeth Kübler-Ross in her 1969 book, On Death and Dying. On the positive side, the book exposed the heartless treatment of terminally-ill patients prevalent at the time, and upgraded the care and treatment of dying people. On the negative side, it postulated the now-infamous stages: Denial, Anger, Bargaining, Depression and Acceptance (known by the acronym DABDA).
The stages allegedly represented what a dying person might experience, even though Kübler-Ross said that not every dying person would experience all of the stages and not necessarily in order - which begs the question of whether or not they could be called stages in the first place.
The really bad news is that over time, the stages of dying somehow morphed into stages of grief, which, although they don't exist, have become embedded in our collective awareness as if they are real. The danger is that by believing there are stages of grief, grieving people do not take any meaningful actions to help themselves deal with the emotional impact of the death, divorce, or other losses that affect them.
John W. James and Russell Friedman, co-founders of the Grief Recovery Institute, along with several of their associates, have interacted with more than 100,000 grieving people over the past 30 years. During that time, they have observed, up close and personal, the damaging impact of belief in stages of grief, and how they paralyze grievers into non-action. Worse, they have seen and heard how grievers, waiting for stages to pass, become more and more affected by the original grief event, and are often treated with psychotropic drugs, which makes it impossible to access the true emotions they have about the person who died, or from whom they're divorced.
To try to put an end to the vicious circle of misinformation about grief, John and Russell wrote a major article for publication in Skeptic Magazine. The article is titled, The Myth of the Stages of Dying, Death and Grief, and appears in Volume 14, Number 2, 2008 issue of Skeptic. (Contact rcerny @ grief.net for permission to reprint the article in its entirety.)
One eye-opening section of the article exposes the fact that Kübler-Ross' life was marked by a lifelong unresolved grief and retained anger. She went public about her anguish in her final book, On Grief and Grieving. She tells a gruesome story about her childhood that caused her to make an oath never to cry again, and gives an unwitting explanation as to why she insisted that anger was the only stage of grief that was absolute for everyone: dying people as well as those who grieve them when they're gone. But in interacting with 100,000 grieving people, the Grief Recovery Institute reports that only some of them are affected by anger, and in many of those cases, the anger is at the circumstances or cause of the death, and not anger within the relationship with the person who died.
Friedman and James go on to refute the other incorrectly labeled stages of grief and demonstrate that in fact no stages of grief actually exist. They express their outrage at what they call Professionally Induced Harm. For example: "Many grievers tell us that a mental or medical health professional "strongly suggested" that they were in the denial stage when all they'd said was that they were having some difficulty since their loved one died." Even after reiterating that they were clear that their loved one had died, the therapist insisted they were in denial which created a breach of trust and safety. They grievers often then terminated therapy after one or two ineffective sessions and left their grief unattended, a model for failure and unresolved grief.
At the end of the day the authors say that "The fact is, it has never been established that stages of grief actually exist and what are defined as such can't be called stages. Grief is the normal and natural emotional response to loss. No matter how much people want to create simple, iron clad guidelines for the human emotions of grief, there are no stages of grief that fit every person or relationship.
The Grief Recovery Institute has helped over half a million people develop an effective strategy for managing their grief and for moving on in a healthy, positive manner. They have trained more than 2500 Grief Recovery Specialists who assist grieving people around the world. Their Grief Index was published in the Wall Street Journal in 2003, demonstrating that US business loses more than $75 Billion each year due to the impact of unresolved grief in the workplace.
###