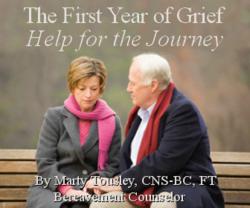 Personal grief rituals are those loving activities that help you remember your loved ones, and give us a sense of connectedness, healing and peace.
Philadelphia, PA (PRWEB) February 12, 2013
February 14th can be a challenging day for those who are grieving and for some, this will be the first Valentine's Day since their precious Valentine died. For those bereaved, there is no celebration; there is only grief. Self Healing Expressions.com grief course instructor Marty Tousley, CNS-BC, FT, DCC, shares some thoughts and seven grief rituals of remembrance to help the bereaved get through the "holiday of hearts."
"If we decide to do so, we can choose to embrace Valentine's Day as a special day on which to commemorate our loved ones and to celebrate our love for them. Death ends a life, but it does not end the relationship we have with our loved ones who have died. The bonds of love are never severed by death, and the love we shared will never die either. For Valentine's Day this year, we can find a way to honor our loved ones, to remember them and to express that our love is eternal. We can immerse ourselves in the healing power of remembrance. We can go to a special place, read aloud, or listen to a favorite song. We can celebrate what once was and is no more," states Marty Tousley.
She continues, "Personal grief rituals are those loving activities that help you remember your loved ones, and give us a sense of connectedness, healing and peace. Creating and practicing personal grief rituals can also help you release painful situations and unpleasant memories, freeing you to make your memories a positive influence in your life."
What follows are seven examples of personal grief rituals suggested by Marty Tousley. Think of ways you can adapt them and make them your own. You are limited only by your own imagination.
1. Select a Valentine card that you wish your beloved would have picked for you this month, and mail it to yourself.
2. Plant a tree, bush, shrub, garden or flower bed as a permanent growing memorial to your beloved. Mark the site with a memorial plaque, marker, bench or statue.
3. Write a special note, letter, poem, wish or prayer to your beloved, go outside, attach the paper to a balloon and let it go - or place it in a vessel and burn it, and watch the smoke rise heavenward.
4. If you are harboring negative feelings or regrets, gather symbols to represent those hurtful or painful situations, events, or feelings from your past, place them in a container and hold a private burial or burning ceremony, saying goodbye and releasing them as you do so.
5. Ask relatives, friends, co-workers and neighbors to gather their contributions, and put together a scrapbook or box of memories containing mementoes, letters and photographs of your loved one.
6. Celebrate the life of your loved one by continuing favorite traditions or eating favorite foods.
7. Give yourself a gift from your loved one that you always wished he or she would have given you, and think of your beloved whenever you use it or wear it.
Marty Tousley, CNS-BC, FT, DCC is a certified hospice bereavement counselor for over 40 years. She is also the author of a number of grief healing ebooks and the online grief course, The First Year of Grief: Help for the Journey available exclusively at SelfHealingExpressions.com.