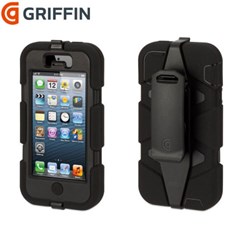 Dust, rain, heat and drops are no match for the Griffin Survivor iPhone 5 case.
Birmingham, West Midlands (PRWEB UK) 31 January 2013
The iPhone 5 is an expensive but amazing smartphone, meaning it needs hard wearing protection to ensure that it remains looking fresh out of the box for longer. No other case is as protective as the Griffin Survivor case for iPhone 5, which happily sees off anything Mother Nature has to throw at it.
UK online retailer Mobile Fun are pleased to have received more stock of the popular Griffin Survivor iPhone 5 cover: a cover which has met both UK and US military standards when it comes to protection and damage control in extreme conditions.
Manufactured from a shatter resistant polycarbonate frame and shock absorbing silicone, the Griffin iPhone 5 Survivor case can withstand damage from rain, dust, grit, vibrations and even humid temperatures. It's the perfect cover for use outdoors or in harsher working environments as it ensures that the iPhone remains looking newer for longer and is functional at all times.
One of the great features of the Griffin Survivor is that it also comes complete with an iPhone 5 screen protector; therefore 100% protecting the entire iPhone. This screen protector stops any scratches and damage from occurring to the screen without removing any of the sensitivity of the touchscreen.
The other stand out protective feature of the Griffin Survivor is that it uses silicone plugs to protect all the ports and features of the iPhone. This means that the ports are fully accessible whenever they're needed but that dust and dirt can't damage them.
Coming complete with a heavy duty carry clip, the Griffin Survivor iPhone 5 case is available now from Mobile Fun.
-ENDS-
About Mobile Fun
Birmingham based MobileFun.co.uk is the UK's biggest online retailer of mobile phone accessories, sim free phones, tablet accessories and e-reader accessories.
Mobile Fun has offices in the UK, USA, Germany, Spain and France and delivers products to over 50 countries worldwide
Mobile Fun were recently named the 'Best Accessory Retailer' 2012 at the What Mobile Awards and won the title of Online Retailer of the Year' at the Mobile News Awards 2012 for the second year running.