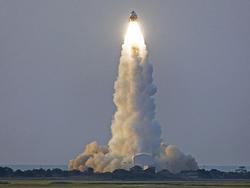 Northrop faced complex technical challenges and a tight schedule
Madison, AL (Vocus) July 14, 2009
Griffon Aerospace was recognized by Northrop Grumman Corporation's (NYSE: NOC) Aerospace Sector as a 2008 Supplier of the Year. The awards banquet took place at the Los Angeles Airport Hilton Hotel ballroom and included approximately 130 suppliers from all parts of the United States. Griffon Aerospace and 10 other Suppliers from around the country received the highest honors as a " Northrop Grumman Supplier of the Year for 2008".
Griffon's CEO Larry French accepted the Supplier of the Year Award for Griffon Aerospace and commented that "As a small business owner there is no greater honor than being recognized for service to your customer". French continued "I am even more humbled for having been recognized for our advanced composites expertise by the industry leader in aerospace composites".
Griffon Aerospace was selected for their award based on their support of the NASA Max Launch Abort System (MLAS) program.
The Northrop Grumman Award highlighted that "Northrop faced complex technical challenges and a tight schedule". Griffon Aerospace worked together with Northrop engineers to perfect Northrop's "out-of-autoclave" cure bond assembly technique used to design, build, test, and deliver eight large composite fins within a compressed schedule. The award further stressed that "Griffon's technical expertise and their composites manufacturing skills along their "make it work" attitude was a key to Northrop Grumman's MLAS success and we are proud to recognize Griffon as a Supplier of the Year" concluded the Northrop Award. NASA successfully tested the MLAS this week at their Wallops Island facility for images and video of the test firing, visit: http://www.nasa.gov/centers/wallops/missions/mlas.html
"This award has been a real validation of my composites team and our processes" said French. "Although much of our revenue is based on the manufacturing Unmanned Aerial Vehicles and related flight services, composites have always been our core competency here at Griffon Aerospace. In fact, our first Griffon product was Lionheart an innovative, 5200 lb gross weight high-temp composite manned aircraft for the kit industry" said French.
Having manufactured over 2,000 unmanned air vehicles, Griffon is one of the highest volume Unmanned Aerial Vehicle manufacturers in the United States. The primary air vehicle manufactured by Griffon is the OutlawTM, a 120 lb gross weight air vehicle capable of carrying 30 pounds of payload. The OutlawTM is used by Air Defense units for qualification training and tactics developers interested in perfecting unmanned aircraft system engagement techniques. The OutlawTM is also used by a number of weapon system developers as a surrogate unmanned aircraft systems and by the Department of Defense test community to stress developmental weapons systems under test.
"This has been a banner year here at Griffon and we are getting so rewarding feedback from our customers" stated French. "We just recently won our first key recomplete on a five year Contract for manufacturing of Unmanned Aerial Vehicles (UAV) with the US Army and now our being acknowledged with a top honor from Northrop Grumman a leader in composites is all very rewarding to the team" said French.
Northrop Grumman Corporation is a leading Global Security company whose 120,000 employees provide innovative systems, products, and solutions in aerospace, electronics, information systems, shipbuilding, and technical services to the government and commercial customers worldwide.
Griffon Aerospace, a Madison Alabama based small business, designs, develops, and manufactures complex composite structures for Unmanned Aerial Vehicles (UAV), space applications, and aerial targets. For more information see our website at http://www.griffon-aerospace.com.
###