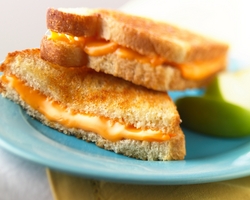 Madison, WI (PRWEB) April 5, 2009
April is National Grilled Cheese Month. New to this year's celebration of all things grilled cheese, WMMB is urging consumers to sign up for All Things Cheese, our monthly newlsetter with recipes and news. As a bonus, you'll also receive a special grilled cheese newsletter from the last Friday in March through each Friday in April complete with grilled cheese recipes and tips from Laura Werlin, one of the country's foremost authorities on American-made cheeses.
STATS
•American cheese is the most popular cheese chosen for a grilled cheese sandwich. Cheddar and Swiss take second and third places, respectively. (Mintel's Menu Insights)
•Americans make 2.2 billion grilled cheese sandwiches at home each year. (slashfood.com)
QUOTES
•"Grate it, pile it on, let it ooze and go wild with bread. This all adds up to a delicious grilled cheese sandwich," says Laura Werlin.
•"Try two different types of cheese, or an aged or flavored cheese in place of your usual refrigerator staple, and make an ordinary grilled cheese spectacular!" says Laura Werlin.
•"In these tough economic times, people are turning to comfort food, but still desire flavor in each bite," says Laura Werlin, author of Great Grilled Cheese.
RECIPES
•Mascarpone and Dulce de Leche Grilled Cheese
•Grilled Wisconsin Blue Cheese and Bacon Sandwich
•Classic Wisconsin Grilled Cheese
•Grilled Wisconsin Havarti Sandwich with Spiced Apples
•Grilled Ham, Wisconsin Brie and Blue Cheese
•Tuscan-Style Wisconsin Grilled Cheese
•Ham and Wisconsin Cheese with a Twist
•Grilled Wisconsin Fontina Sandwich
•Hot Turkey Dijon Sandwiches
•South of the Border Grilled Cheese
For active links to recipes and to download high-resolution images, visit: Recipes and Images
For a demonstrational video on how to make the perfect grilled cheese, visit: WMMB Grilled Cheese Video
For recipes, or to sign up for the newsletter, direct your readers to WMMB Grilled Cheese Newsletter
# # #