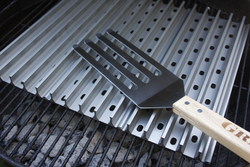 It is a real honor to be recognized by the professionals and other award winners of this great American industry
Austin, TX (PRWEB) March 3, 2009
The National Barbecue Association at their 2009 Award of Excellence program awarded GrillGrate, Inc. Best Overall Specialty Item for their interlocking panels that form a new grilling surface on any grill. GrillGrate panels simply lay on top of the existing grill grid. The raised rail design prevents grill flare-ups and charring while keeping juices with the food. Fats drain out from the bottom and burn on the back of the grates. The system includes a special tool that reaches below the rails for easy lifting of hard to handle foods such as fish, pizza, vegetables, and pasta. Together they form a new grilling system that expands grilling options and keeps food juicier. (http://www.grillgrate.com ).
"It is a real honor to be recognized by the professionals and other award winners of this great American industry," states Brad Barrett, Founder and President of GrillGrate, Inc. "People are passionate about barbecue and the NBBQA is one passionate bunch. That makes this award so special coming from them" adds Barrett.
GrillGrates are a redesign of the grilling surface from the bottom up. The hard-anodized aluminum panels keep flare-ups down while keeping juices sizzling with the food and out of the flames. Marinades and sauces can be used more liberally without fear of flare-ups and burning. Meats are juicier with less shrinkage and vegetables and fish are much easier to grill and handle without breaking apart or falling into the grill.
"What I grill has changed from 100% meat to 3/4 vegetables and 1/4 meat and fish. I'm grilling more and eating a lot healthier. I ate my first beet at 51!" exclaimed Barrett, adding, "We're still learning what they can do. Having professionals like NBBQA members and chefs work with the product has been just wonderful."
GrillGrates are packaged in gift kits that include 2 GrillGrate panels, The GrateTool™ and a user guide. GrillGrate panels measure 5.25" x 13.75" and two create a 10.5" x 13.75" grilling surface. The GrateTool is 21" long with four stainless steel fingers for reaching below foods. They are available from specialty hardware and houseware retailers as well as select catalogs and internet retailers. Additional panels can be added to cover more grill surface.
GrillGrate, Inc. is based in Cartersville, GA. GrillGrates are manufactured in the United States. The GrateTool™ is imported. Patent Pending. The GrillGrate website contains dozens of original recipes and people can submit their own grate creations.
The National Barbecue Association is a not for profit industry organization that serves the restaurant, catering and professional competition community as well as the serious barbecue enthusiast. (http://www.nbbqa.org )
Contact:
Brad Barrett
678.361.4491
link to 300 dpi photos
###