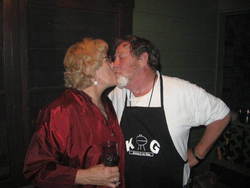 KOG isn't just a brand. It's a state of mind
College Station, TX (Vocus) August 5, 2008
There's a lot more to barbecuing than just hot dogs and burgers. Perhaps no one understands it better than Texas-based Keepers Of the Grill (KOG), a company that is determined to unite the grilling community.
A study by the Hearth, Patio & Barbecue Association estimates that 4 of 5 American families own at least one outdoor grill. Among this generation of compulsive grillers, the Keepers have grown to be a one-stop shop for all things grill and barbecue.
Chef David Kamen of the Culinary Institute of America points out that backyard chefs are becoming more adventurous with different types of grill techniques in the past few years, a fact that the Keepers are leveraging on. Their newly redesigned website launched in December focuses on building an online community of grillers who share quality information about food, grilling, and the fun that comes along with it. The site features recipe sharing, a photo gallery, calendar of events, blog, polls, forum, a grill review section that anyone can contribute to, and an online store featuring KOG gear such as t-shirts, ball caps, slider beanies, cuffed beanies, and aprons at very affordable prices.
"KOG isn't just a brand. It's a state of mind," stresses founder Johnny Ward. "Our hope is that the information you read on the site will make you the most informed griller in your neighborhood and ultimately a part of the KOGNation."
So how do you become a Keeper? An optional membership of $35 makes you one and buys you free gear, a monthly newsletter, and access to members only areas of the site chock full of tips, tricks and tools of the trade.
Keeping in mind the current consumer trend, the Keepers prove that a pair of tongs and a metal spatula can certainly go a long way.
For more information please visit http://www.keepersofthegrill.com .
About Keepers of the Grill:
On a camping trip in 2002, Keepers of the Grill founder Johnny Ward discovered what it meant to be a true keeper. Challenged by a few well-meaning ladies who decided to claim the grill the guys had going, Ward and others politely reclaimed their grill and formed a coalition of keepers––Keepers Of the Grill. Their mission is to unite a global community of griller's who love food, family & friends, fellowship, and good ol' fun.
This is the KOGNation signing off and reminding you ... Don't let the heat control the meat!
###