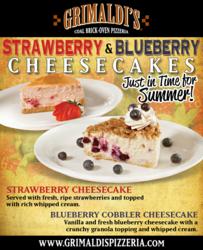 ...stop by soon to taste these mouthwatering cheesecakes.
Florida (PRWEB) May 09, 2013
Grimaldi's Pizzeria famous for its award-winning, hand-tossed, coal-fired brick oven pizzas and calzones, has introduced strawberry and blueberry cobbler cheesecakes just in time for summer.
The strawberry cheesecake is comprised of fresh berries and Grimaldi's signature creamy cheesecake, and the blueberry cobbler features juicy blueberries inside the cake, exotic vanilla and cream cheese. The seasonal selections are available now through May 31. Grimaldi's cheesecakes are prepared fresh daily and priced at $5 each.
"The Strawberry and Blueberry Cobbler Cheesecakes are great dessert additions to get our customers ready for summer," said Cory Lattuca, food & beverage director/corporate chef. "Our seasonal cheesecakes change regularly so make sure you stop by soon to taste these mouthwatering cheesecakes."
Grimaldi's Pizzeria will continue to offer its traditional dessert menu which includes: tiramisu, housemade cheesecakes—New York style or Oreo Cookie—priced at $5 each and Grimaldi's famous cannoli for $4.50.
About Grimaldi's Pizzeria:
In the world of pizza, Grimaldi's is an institution that has garnered more awards than any other pizzeria in the country with more celebrity sightings than most 5-star restaurants. Using only the freshest ingredients, a "secret recipe" pizza sauce, handmade mozzarella cheese and dough, Grimaldi's serves traditional pizza (as it began in Naples, Italy) in an upscale yet casual, family oriented pizzeria. The intense heat of the oven evenly bakes the pies to create Grimaldi's famous crispy and smoky thin crust that Zagat has voted best pizza year after year. Grimaldi's Pizzeria has six locations in Florida including Fort Myers, Clearwater, two in the Tampa area, Palm Beach Gardens and West Palm Beach.
For more information on Grimaldi's Pizzeria visit http://www.grimaldispizzeria.com "Like" Grimaldi's Pizzeria on Facebook: http://www.facebook.com/GrimaldisPizzeria Follow Grimaldi's Pizzeria on Twitter: http://www.twitter.com/grimaldispizza