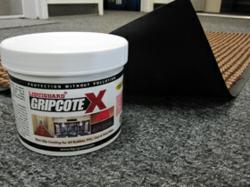 We see GripCote-X being a preferred solution to enhance safety by eliminating mat slippage and bunching
Cleveland, Ohio (PRWEB) January 30, 2013
Martinson-Nicholls announces its new GripCote-X non-slip coating for floor mats. GripCote-X is the perfect anti-slip accessory for a variety of mats. It is applied easily by soft bristle brush, roller or spray and is non-toxic, making it a simple Do-It-Yourself accessory product appropriate for homeowners, small businesses or larger businesses looking for a long-term and environmentally friendly solution to the problem of mat movement. Martinson-Nicholls will also pre-apply GripCote-X for its customers to any mat as an added service.
Slippages, movement, curling and bunching present an ongoing problem with commercial mats. This is particularly the case with lighter PVC-backed matting in smaller sizes or in runners, but occurs in a wide variety of mats including entrance mats and many anti-fatigue mats. This problem is a nuisance to many businesses who are forced to frequently reset the mats in their proper resting place. In many cases, mats that shift and bunch up can create a trip and fall hazard as well.
Dan Ruminski, President of Martinson-Nicholls, offers, "Martinson-Nicholls is proud to introduce GripCote-X to its lineup of non-slip matting solutions as an environmentally-friendly, state of the art polymer technology that provides lasting value and outstanding performance on all matting products. We see GripCote-X being a preferred solution to enhance safety by eliminating mat slippage and bunching."
GripCote-X key features:

Eliminates movement/slipping/bunching with runners, entrance and anti-fatigue mats
Water-based, non-toxic formula
Adheres effectively with all flooring substrates
Non-transferring formula/Won't leave residue
Works on all PVC and rubber-backed matting
Easy application process
Lasts for life of mat
Withstands up to 20 wash cycles with washable mats
Rinse to clean
About Martinson-Nicholls
Martinson-Nicholls, has established itself as a leader in custom anti-slip tape, floor mats, and eco-friendly products for more than 25 years.
Martinson-Nicholls provides the customer with the exact size matting needed--small, large, standard, nonstandard, special shapes and logos. Custom installations are also a specialty of the company.
Anti-slip safety tapes and treads are available in various sizes and textures from hand cut or die cut pieces to full rolls and special shapes. For more information, please visit http://www.floormat.com.