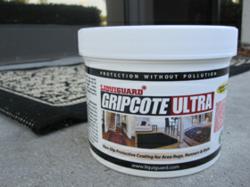 GripCote Ultra is an environmentally-friendly, water-based coating is designed to be applied directly to the backing of area rugs or mats, bonding effectively to a flat or fibrous backing and providing both outstanding anti-slip protection
Cleveland, Ohio (PRWEB) February 13, 2013
Martinson-Nicholls announces its new GripCote Ultra non-slip coating for carpets, rugs, and runners. GripCote Ultra is a water-based, eco-bio friendly coating that has been formulated for application on tightly woven and artistic floor coverings. This includes Persian carpets, hallway runners, wool and cotton throw rugs used indoors, on patios or other covered areas.
GripCote Ultra provides an effective and lasting non-slip surface on practically all common surfaces in homes and businesses. In addition to firmly anchoring the floor coverings, GripCote Ultra's water and oil resistant structure will protect the coated surface from being damaged by liquid spills.
Area rugs and mats have traditionally been held in place with the use of items such as double-sided tapes, underlayments and SBR-backed pads. These solutions have their shortcomings by way of either not offering real stability, creating separation between the rug or mat and the underlayment. Tapes and underlayments may leave residue from adhesives and plasticizers, creating permanent damage to the floor. GripCote Ultra replaces carpet pads, foam tapes and similar with a more effective and lasting non-slip coating that can be easily brushed or rolled on. It can also be sprayed when applied to large surface areas.
Dan Ruminski, President of Martinson-Nicholls, explains, "GripCote Ultra is an environmentally-friendly, water-based coating is designed to be applied directly to the backing of area rugs or mats, bonding effectively to a flat or fibrous backing and providing both outstanding anti-slip protection. In the case of area rugs, it also offers waterproofing properties that will protect the floor and rug."
GripCote Ultra key features:

Eliminates mat and area rug movement on all surfaces
Non-transferring solution/No plasticizers
Lasts for lifetime of product
Water-based, non-toxic formula
Simple brush, roll or spray-on application
Easy to clean
Clear, transparent finish
GripCote Ultra works by providing a minimal but effective amount of tack. Ultra is not an adhesive but a polymer technology with adhesive properties. It will hold firmly to all substrates including concrete, tile, wood, marble and wall-to-wall carpet and will not damage those surfaces, even in hot or cold climates.
About Martinson-Nicholls
Martinson-Nicholls, has established itself as a leader in custom anti-slip tape, floor mats, and eco-friendly products for more than 25 years.
Martinson-Nicholls provides the customer with the exact size matting needed--small, large, standard, nonstandard, special shapes and logos. Custom installations are also a specialty of the company.
Anti-slip safety tapes and treads are available in various sizes and textures from hand cut or die cut pieces to full rolls and special shapes. For more information, please visit http://www.floormat.com.