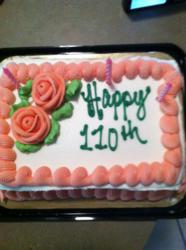 She has a desire to live because she is part of her family, and that includes the excellent care she receives through Griswold Home Care.
Philadelphia, PA (PRWEB) May 07, 2013
On April 26th, 2013, Goldie Miller celebrated a milestone very few have ever reached — her 110th birthday. With TV news crews present to document the event, Miller ate cake and chatted with friends and family, and was serenaded by Charm City Sound, a quartet from the Pride of Baltimore Chorus of the Sweet Adelines International Organization. "I feel good today!" Miller said.
For the past six years, Miller has had the help of a professional caregiver from Griswold Home Care, a service that matches more than 9,000 families a year with personalized care across the United States. Miller's family says that she could not have enjoyed the long, happy life she has without Griswold. "She has outlived most of her family," says Miller's son, Dr. Gerald Miller. "She has a desire to live because she is part of her family, and that includes the excellent care she receives through Griswold Home Care."
Miller grew up in Baltimore, Maryland. She is one of seven siblings, all of whom she has survived. Miller married a physician in 1924 and was happily married for 34 years, until his passing in 1958. Now happily retired, Miller previously worked selflessly at her husband's medical practice, and later, at her son's medical practice.
Miller's family is extremely important to her. She has six beloved grandchildren. Miller's daughter, Natalie, is now 83 years old and is a retired nurse. Her son, Gerald, is now 77 years old and is a retired ophthalmologist. He visits his mother daily, something Natalie Miller says has contributed to her mother's long life. "She has lived as long as she has because of her love for her son," she says. "He visits her daily rain or shine. He always sits and talks with her and holds her hand."
The Miller family is effusive in their praise for Griswold Home Care. "Griswold Home Care has been so dependable," says Natalie Miller. "We could not do it without Griswold Home Care. They are wonderful and their caregivers are wonderful to my mother, Goldie."
Miller's family decided to bring on a caregiver for her when she was about 104. Miller has lived happily at home with her daughter near the heart of downtown Pikesville, MD for the past 44 years. Miller's family wanted to find a way to preserve her lifestyle and keep her living at home. They decided to bring on Griswold Home Care because "she needed personalized care, not institutionalized care," says son Dr. Gerald Miller. "That's what Griswold Home Care offers."
Goldie's caregiver. Melissa Derr, experiences a close relationship with Goldie and her family. "Our relationship is built on patience and kindness," says Derr. "I try to be a good caregiver to Miller and always display a nurturing attitude." Derr says that she interacts closely with the Miller family, who consults with her about Miller's care plan and respects the expertise she has gained from years of caregiving. Derr is a valued member of Miller's family's support system.
Today, Miller finds pleasure in the simple joys of life. Her favorite food is mashed potatoes, and she eats them every day. Her favorite pastimes are watching the television, especially the news, and listening to music, her favorite being Lawrence Welk. She cherishes living at home and the daily time she spends with her son and daughter.
Margie Foster, the executive director of Griswold Home Care of Baltimore and Howard County, Maryland, is close with the Miller family, and felt proud to be a part of her 110th birthday celebration. "For the past 6 years Griswold Home Care has been honored to play a role in fortifying Goldie's quality of life while she lives at home with her family. Goldie's good health, happiness, and long life exemplifies all the positive benefits that seniors experience when they are properly supported by experienced caregivers and remain with their families in their homes," she says.
The connection between Griswold Home Care and the Miller family represents the ideal relationship between a caregiving service and a client. Griswold Home Care is proud of the role they've played in helping Miller enjoy the long, happy life she has. In turn. Miller's family highly recommends the services of Griswold Home Care. "Anyone who intends to maintain comfort and care for a loved one at home should consider Griswold Home Care," says son Dr. Gerald Miller. Griswold Home Care is the best!"
About Griswold Home Care
Griswold Home Care is a mission-driven non-medical home care services company that celebrates, educates, and advocates the choice to remain independent at home. Griswold Home Care offers a range of home care services including companion, personal, and homemaking care. Our unique consumer-directed home care approach has restored balance and quality of life for clients since 1982. Griswold Home Care was founded by Jean Griswold, wife of a Presbyterian Minister, in 1982 after being diagnosed with Multiple Sclerosis and seeing the need for quality care in her community. Jean's mission of affordable care for all continues to spread today in 32 states with over 260 locally-owned territories in the US. Griswold Home Care refers caregivers who assist older adults with activities of daily living to remain independent and comfortable at home. Visit our website at http://www.griswoldhomecare.com and connect with us on Facebook and Twitter.
Griswold Home Care
717 Bethlehem Pike, Suite 300
Erdenheim, PA 19038