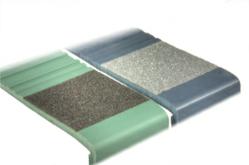 The mineral embedded pressure sensitive tape can be used on new OEM treads, or field-installed as a replacement on existing stair treads
Cleveland, Ohio (PRWEB) February 26, 2013
Martinson-Nicholls announced that their newly expanded line of anti-slip grit tape has been selected by Johsonite of Chagrin Falls, Ohio, for its rubber and vinyl stair treads. The precision-cut mineral tape fits Johnsonite's tread grooves, providing an anti-slip surface near the stair nose. With additional standard sizes, the numerous tape color options allow selection of grit tapes that match the color of the stair treads, or contrast them when high visibility is desired.
According to Martinson-Nicholls president Dan Ruminski, "The mineral embedded pressure sensitive tape can be used on new OEM treads, or field-installed as a replacement on existing stair treads. The numerous colors include a tape that absorbs light and will glow for up to 8 hours for added safety. When back-up lighting systems fail in emergencies the treads will illuminate to exit routes."
The grit tapes come in standard rolls of one inch by sixty feet and two inches by sixty feet as well as custom widths up to 24 inches. If the tape ever wears out after many years of service, the old tape can be easily removed and replaced without replacing or removing the entire tread. The anti-slip tape also meets A.D.A. requirements for the stair tread industry. Martinson-Nicholls can create additional custom colors for OEM customers.
Designed to provide slip resistant footing even on wet steps, the new Grit Tape uses a durable, pressure-sensitive backing, making it easy to just peel and stick the anti-slip tape to new or renovated stair treads. The ability to use the new Grit Tape on existing stair tread installations was a key feature for Johnsonite and their dealers.
About Martinson-Nicholls
Martinson-Nicholls, has established itself as a leader in custom anti-slip tape, floor mats, and eco-friendly products for more than 25 years.
Martinson-Nicholls provides the customer with the exact size matting needed--small, large, standard, nonstandard, special shapes and logos. Custom installations are also a specialty of the company.
Anti-slip safety tapes and treads are available in various sizes and textures from hand cut or die cut pieces to full rolls and special shapes. For more information, please visit http://www.floormat.com.
About Johnsonite
For more than 100 years, Johnsonite has been a leading provider of innovative flooring solutions that integrate function, design, life safety, and sustainability to enhance productivity in commercial spaces. Johnsonite is the North American commercial brand of the Tarkett Group, which manufactures and markets integrated flooring, flooring accessories, wall base and sports surface solutions to professionals and end users in 100 countries, from 32 production sites.
Tarkett and its Johnsonite brand are committed to providing solutions that balance each component of the triple bottom line: people, the environment and economics. Johnsonite's mission is geared toward enhancing the productivity and well-being of the people who design, manufacture, distribute, live and work with their products daily. Johnsonite is headquartered in Chagrin Falls, Ohio, with operations located throughout North America. For more information, please visit http://www.johnsonite.com.