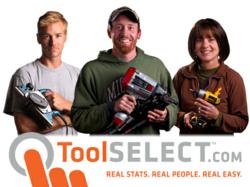 We wanted to offer a reasonably priced 12" disc sander and the G0724 is the result of our efforts
Grand Rapids, MI (PRWEB) March 19, 2012
Grizzly woodworking tools continue to make an impression on the ToolSelect community with the release of their new 12" disc sander, giving ToolSelect's members another tool to review and discuss.
Grizzly designed the disc sander for bench-top use, incorporating its own dust-collection system that includes a 2 ½" dust port, dust-collection fan and bag.
"We wanted to offer a reasonably priced 12" disc sander and the G0724 is the result of our efforts," says Bill Crofutt, quality control manager with Grizzly. "It needed to be powerful and have good dust-collection performance and we believe we have hit our target quite well."
Grizzly notes the disc sander runs on a 1/3 HP, 120 V, single-phase motor with direct power-drive transfer and features a 12" cast aluminum disc that accepts all 12" PSA sanding discs. A cast aluminum table tilts from 0 to 45 degrees with a miter gauge for compound angles. The tool comes with a one-year warranty.
"People are always asking about tools for woodworking," says Tom Klein, vice president of marketing and merchandising with ToolSelect. "This new disc sander from Grizzly will give our members another tool to compare and contrast, and we're excited to see what kind of buzz it generates."
About ToolSelect
ToolSelect is an unbiased community powered by its members that covers all aspects, types and brands of tools, but does not actually sell any tools. ToolSelect's members include everyone from experienced tradesmen to complete novices. Users trade tips, compare notes, debate their favorite tools and work together to help each other make intelligent purchasing decisions.
Like ToolSelect on Facebook (ToolSelect)
Subscribe to ToolSelect on YouTube (toolselecttv)
Follow ToolSelect on Twitter (toolselectmedia)