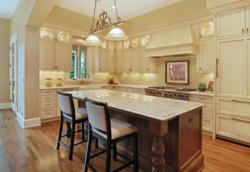 "After a long recession, the real estate numbers on both the residential and commercial side are definitely improving", commented Suzy Koch, CEO of GRNY Renovation
New York, NY (PRWEB) July 25, 2012
GRNY Renovation, New York City's premier remodeling and renovation contractor company, is offering a smart solution for home owners in Manhattan, Queens, Brooklyn, and the Bronx who want to take advantage of the strengthening real estate market and boost their home's value before they list it rent or sale: remodel the kitchen and bathroom.
"After a long recession, the real estate numbers on both the residential and commercial side are definitely improving", commented Suzy Koch, CEO of GRNY Renovation. "It's well known that kitchen and bathrooms are influential deal makers or deal breakers for many home buyers. And that means remodeling these critical areas of the home can lead to higher offers and more bids."
With years of experience handling every aspect of kitchen remodeling in New York and bathroom remodeling in New York – including plumbing, electrical work, lighting and construction -- GRNY Renovation's experts have the knowledge, tools and vision to handle any sized project.
And when the job is done on time, on budget, and with world class professionalism every step of the way, homeowners can look forward to stunning remodeled kitchens and bathrooms that are more functional, beautiful, and add overall value and desirability to their home, condo or co-op.
Added Koch: "As the buying activity heats up, people who have been putting off kitchen and bath remodeling in NYC are contacting us to wisely boost their home's value, so they can rent or sell at top dollar. As New York City's premier remodeling and renovating contracting company, we help make their vision come to life efficiently and effectively."
Individuals and couples who own a home, condo or co-op in any of the New York City's four boroughs, Manhattan, Queens, Brooklyn, and the Bronx can learn more about GRNY Renovation's kitchen and bathroom remodeling service, view stunning photos from actual projects, read the company's informative blog, and visit their advice center for tips, hints and facts on smart remodeling.
For more information or media inquiries, contact Suzy Koch at (212) 380-6171 or grny(dot)renovation(at)gmail(dot)com.
About GRNY Renovation
Headquartered in NYC, GRNY Renovation offers complete remodeling services for your home and business. Serving Manhattan and all NYC boroughs, GRNY Renovation specializes in kitchen renovation and bath remodeling, in addition to commercial remodeling. Family-owned and operated, the company offers a level of customer service that larger firms simply cannot match. They also take tremendous pride in their work and in providing customers with quality solutions to last a lifetime. Learn more at GRNYrenovation.com