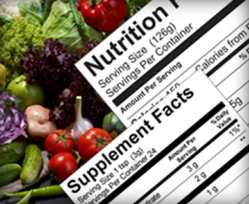 Retailers need the ability to quickly and accurately update nutrition labels when making recipe or ingredient changes to in-store prepared foods
Toronto, ON and Salem, OR (PRWEB) November 27, 2012
Invatron Systems Corp. and ESHA Research announced today that they have partnered to provide grocery retailers with a comprehensive and integrated set of Nutrition Facts Management tools, enabling the printing of accurate nutritional and ingredient information on in-store scale labels.
In partnering with ESHA Research, Invatron can now provide its PLUM Scale Management application clients with seamless access to the largest and most accurate database of nutritional information available on the market. Since many of Invatron's clients already use ESHA's solutions for managing their nutritional analysis needs, this partnership represents a logical union of two industry leaders.
Invatron's PLUM applications are the industry standard for efficiently handling the storage, centralized maintenance and label printing of both Nutrition Facts panels and Ingredient Information on the scales. However, with more retailers promoting prepared meals as a competitive differentiator and adjusting bakery products to support a health-conscious image, they find themselves increasingly making frequent updates to recipes, affecting label ingredient and nutritional information. Most retailers don't have the time or expertise to look up and verify detailed nutritional information for each recipe ingredient, nor do they want the legal or regulatory exposure that results from printing inaccurate product label data.
This is where ESHA Research completes the picture. ESHA staffs a dedicated Nutrition Department to keep its extensive database up-to-date, constantly incorporating new nutrient recommendations and updating existing information to be as accurate as possible. The ESHA master database is composed of more than 47,000 food items, with data from more than 1,600 reputable sources. Data sources include the latest USDA Standard Reference database, Health Canada's CNF (Canadian Nutrient File), selected items from the CSFII (Continuing Survey of Food Intakes by Individuals) database, as well as manufacturer, fast food company and literature-sourced data. Each of the 160 nutritional components is individually sourced and verified.
About ESHA Research
Named for its founders, ESHA (Elizabeth Stewart Hands and Associates) Research started in 1981. The ESHA Nutrient Database follows stringent protocols for nutrient information, and is now the industry hallmark for completeness and accuracy. Genesis R&D product development and labeling software was introduced to researchers and food manufacturers in 1991, and is now used by over 90 percent of U.S. top food producers and developers. Today, ESHA Research is professionally associated with leaders in health, education, medical research and food service and manufacturing. For more information, please visit http://www.esha.com.
About Invatron
In business since 1988, Invatron offers software solutions to help retailers gain valuable insight into their fresh food operations, by providing centralized control of all product information and gathering critical in-store data on fresh food ordering and production trends. The software includes demand forecasting to optimize inventory, production planning and ordering of fresh food items, as well as centralized scale management. Invatron has the most widely installed suite of applications of its kind with well over 15,000 store deployments, and counts many of the largest and most respected chains among its customers including Safeway, Kroger, Ahold, Giant Eagle, H-E-B Grocery Co., Wegmans, A&P, Sobeys, Whole Foods and Loblaws. For more information, please visit: http://www.invatron.com.