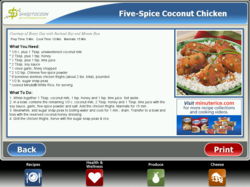 shoppers are stuck in a 'recipe rut', tired of preparing chicken breasts the same old way
Toronto, Canada and Buffalo, USA (PRWEB) January 10, 2012
Invatron and ShoptoCook announced today that they have formed a strategic global alliance to provide innovative meal solution tools for grocery retailers and their shoppers. Under the terms of the alliance, Invatron will become a reseller of the ShoptoCook AnswersTM software suite, integrating product information from Invatron's ePLUM and PeriScope applications.
Until recently, grocery retailers have focused on building value by reducing their operational costs, leveraging solutions like Invatron's PeriScope Fresh Item Management software to reduce shrinkage and provide accurate production and order forecasts. However, a new trend is emerging that builds upon those cost-based successes to drive revenue by focusing on enhancing the customer experience.
"Numerous studies indicate that people are increasingly spending more time preparing meals at home, but they are stuck in a 'recipe rut', tired of preparing chicken breasts the same old way", says Frank Beurskens, President of ShoptoCook.
Via an intuitive touchscreen interface, the ShoptoCook Answers software suite gives shoppers quick access to a large catalogue of interesting recipes, complete with a printable ingredient shopping list. Additional features that can be added to the solution include: Product Locator, Produce & Cheese Information, Wine Pairings, Health & Wellness Tips, Price Checking and more.
Existing and new customers of Invatron who use the ePLUM Scale Management or PeriScope Fresh Item Management systems will be able to seamlessly feed product details to the ShoptoCook Answers TM suite from those applications, linking the store's products with related recipes stored in the ShoptoCook solution. An integrated scanner in the kiosk display will also allow users to jump right to a product-specific recipe group. For example, a shopper might scan a package of chicken thighs that they are holding to view a variety of associated recipes, and then print out the "Five-Spice Coconut Chicken" recipe from Rachael Ray.
This alliance allows grocers to deliver an innovative and unique value-added experience to their shoppers, building store loyalty and providing a significant advantage in the highly competitive grocery retail industry.
About Invatron
In business since 1988, Invatron offers software solutions to help retailers gain valuable insight into their fresh food operations, by providing centralized control of all product information and gathering critical in-store data on fresh food ordering and production trends. The software includes demand forecasting to optimize inventory, production planning and ordering of fresh food items, as well as centralized scale management. Invatron customers include Safeway, Kroger, Ahold, A&P, Giant Eagle, Wegmans, H E B Grocery Co., Sobeys, Whole Foods Market and Loblaws. For more information, please visit: http://www.invatron.com.
About ShoptoCook
ShoptoCook provides retailers a single source for connecting with shoppers using traditional and emerging technologies. Using the latest developments in web, mobile, social media and in-store displays, ShoptoCook helps clients to connect to their shoppers, whether the consumer is meal planning at home or on-the-go. For more information, please visit: http://www.shoptocook.com.
###