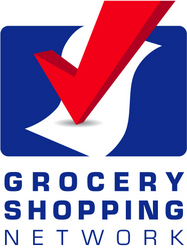 Three of every four shoppers say they are making food decisions at home, as opposed to making the food decision in-store.
Minneapolis, MN (Vocus) July 30, 2009
Grocery Shopping Network's reach has now expanded to 6.2 million consumers monthly and over 75 million impressions per month in the 'grocery shopping' category. This is up from just 1 million a year ago.
"Grocery Store Websites are an important emerging online category," according to Andy Robinson, CEO of Grocery Shopping Network. "These grocer websites are replacing legacy grocer advertising tools such as store circulars, newspaper advertising and even broadcast. Instead, the stores are offering powerful online tools that let the consumer plan their shopping trips. Those websites are proving extremely popular among the shoppers who spend the most at the grocery store."
"Just wanted to say that this is the greatest shopping aid I've ever seen. I love how the ad lets me organize my shopping list. Thanks!" - Consumer, Richmond, VA
"Thanks for making my shopping trips easier with your website, sales, and coupons." Consumer, Chicago, IL
"I love your new website! I like that you have enhanced the online weekly circular so that you can read the fine print. You've added more tabs that make it easier to navigate your site. Lastly, I especially like that I can create my grocery list online to print off along with manufacturer's coupons. Saves me a lot of time! Thanks for the update!" Consumer - Fargo, ND
Serving a large retail footprint:
The latest network expansion takes the GSN store website network to over 5,500 stores. The aggregate annual sales of stores of over $130 billion, is larger than the combined footprints of well known supermarket giants Safeway and Kroger.
"Until now, CPG companies had difficulty planning and buying media to reach the consumers at the middle tier of independent grocers,' says Dave Smith, CEO of Mediasmith Inc, a San Francisco based media consultancy. "Now, a single network buy gives reach and targeting the consumers via 5,500 store websites across the country."
The Grocery Shopping Network operates like other online ad networks, using standard delivery tools including DART. The network is unique in being composed entirely of grocery store websites, which are becoming the tools of choice for smart consumers who want to save time, save money, and make their shopping and home cooking more fun and productive.
Pure, intent based targeting: consumers planning their grocery shopping trip.
Per Daniel Ruby, of MediaPost, "online advertising is being pulled further and further away from demographics and readership rates and closer to intent-based targeting."
The Grocery Shopping Network reaches a cross section of the American grocery shopping public, with websites that help them make smarter purchases and more efficient store trips.
The 'goal' of the consumer using their grocery store website is to plan their shopping trip. That 'intent' separates the GSN network value proposition for consumer package goods advertisers.
"The grocery website is the 'last mile' for online advertising," says Mr. Robinson. "It is the online portal to the actual products in the store, the coupons that are available, and is the place where advertising can be the closest to the consumer before the actual purchase is made."
According to a February 2009 Information Resources Inc. (IRI) study, "Three of every four shoppers say they are making food decisions at home, as opposed to making the food decision in-store."
The engagement on steroids:
Through its agreements with the grocers, GSN is able to provide industry-leading metrics for advertisers on the conversion of their advertising at the cash register.
This enables GSN to provide the advertiser with the actual 'real world' impact of their online campaigns, as well as a testing platform to learn what offers and creative move products from the consumer's mind into the shopping cart.
Per David Carlick of the Grocery Shopping Network: "A purchase is an engagement on steroids. We are all about the engagement converting intent to the final purchase. Advertising on Grocery Shopping Network's grocery store sites moves product."
About Grocery Shopping Networks:
Grocery Shopping Network, Inc. connects consumers, retailers and brands through its premier content, advertising, and software for supermarket websites. The company's services help power grocery store websites, which enable consumers to quickly plan a shopping trip or place an order online. GSN powered grocery sites provide the shopper the best way to find bigger savings, better meals, and faster shopping. The GSN Ad Network exclusively delivers over 5,500 retail grocery locations in the top US markets. The company's analytics offering, GSN Insights, provides proof of the direct ROI created when a brand advertises with GSN by measuring the effectiveness and sales lift of the advertisement. To find out more visit our website: http://www.groceryshopping.net.
Contact:
Albin Andolshek
Grocery Shopping Network
(612) 238-4942
albin (at) groceryshopping (dot) net
David Carlick
Grocery Shopping Network
(650) 823-8175
dsc (at) groceryshopping (dot) net
###