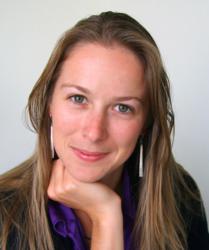 CommonKindness gathers companies which want to give back, so that together we can make the world a better place.
Chicago, IL (PRWEB) May 01, 2013
Progressive Grocer has added CommonKindness President Sarah Schloemer to its list of Top Women in Grocery for 2013. The voice of the retail food industry for nearly 90 years, Progressive Grocer is the source for authoritative, comprehensive, relevant, research-based editorial content and news.
The Top Women in Grocery award recognizes the integral role women play across all areas of the dynamic retail food industry. Recipients are female movers and shakers who have demonstrated outstanding leadership and influence in their companies and in the industry at large, and who have been deeply involved in their communities and related philanthropic activities.
Sarah is receiving the award for her management and direction of CommonKindness, the free printable grocery coupon website that donates twenty percent of its revenues to the coupon users' favorite nonprofit organization. The 27-year-old New Zealand native launched the innovative social enterprise that empowers people to "save money and help others" just one year ago—on Earth Day, April 22, 2012.
In a departure from the traditional pay-per-print model, Sarah developed a performance-based, pay-per-sale model for brands that eliminates account set-up and coupon loading fees and charges only 25 cents for each coupon that is redeemed. That means a brand only pays a fee when it gets a sale—a cost effective model for distributing coupons, generating sales, maintaining shelf space, reaching new consumers and the model eliminates any risk of click fraud.
Although the primary mission of CommonKindness is to generate funds for nonprofits, the online printable grocery model Sarah developed also offers tremendous benefits to brands and consumers. Brand managers have long complained that they don't want to spend money on impressions or prints—they only want to pay when consumers use their coupons to purchase their products.
Many brands were previously unable to launch effective coupon marketing campaigns because of the high coupon loading fees and per-print charges posed by other online coupon companies. They can now distribute more coupons than before due to the savings on the distribution side.
Brands that post coupons on CommonKindness also benefit from the halo effect created by associating the brand with supporting shoppers' favorite charities, says Sarah. She cites research published in American Marketing Association Journals, which indicates that allowing consumers to select the cause in a cause-related marketing campaign is more likely to enhance personal participation and purchase intentions.
Consumers love the model because saving money makes them heroes at home, while the charitable funding their coupon purchases generate makes them heroes in their communities.
"As a mom who is trying to teach her kids the importance of being kind, and a blogger who thrives on getting good deals, CommonKindness is the best of both worlds," said Dana Potgieter, owner of Couponing With Integrity. With today's economy, we may not be able to afford to donate as much monetarily as we used to, but now we can—with just one click!"
By focusing on helping others and nurturing an atmosphere of inclusion and working together towards a higher purpose, Sarah has fostered an atmosphere of community, not competition. "Sarah's model has made it easy and rewarding for us to promote our products, and indirectly our mission," said Edouard Rollet, cofounder and COO of Alter Eco, importers of organic Fair Trade-certified products.
Rollet believes CommonKindness builds community and creates synergies within the industry, instead of intensifying competition. "CommonKindness gathers companies which want to give back, so that together we can make the world a better place," said Rollet.
Progressive Grocer's 2013 Top Women in Grocery award winners will be announced in its June 2013 print edition and in its online edition during the first week of June. Award winners will also be honored at a Gala event later this year in Chicago, IL.
About CommonKindness
CommonKindness is the new free grocery coupon website that operates on the principle of kindness and benefits consumers, nonprofit organizations, and brands. CommonKindness is revolutionizing the online coupon industry by eliminating coupon loading and change costs, charging brands only for coupons redeemed, and giving 20 percent of revenues to nonprofit organizations of the shopper's choice.
To learn more, go to CommonKindness.com or call (415) 729-9658.