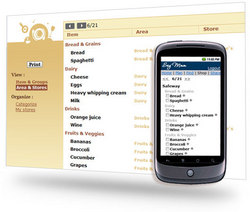 "Computers are good at remembering and automating repetitive tasks, so as people use Say Mmm, more of the work of creating grocery lists is done for them"
Sunnyvale, CA (PRWEB) July 15, 2010
How many people enjoy grocery shopping? For most, it's not something to look forward to, and can even be stressful. Using grocery lists is a popular strategy for staying organized and remembering what to buy, but the time still needs to be spent in writing out these lists over and over. To help with this task, Say Mmm has free online and printable grocery lists that save time and money.
With Say Mmm grocery lists, people can not only type in any item they need to buy, but also just click to add common items organized by grocery category. The lists get smarter as more are created, and suggest grocery items that are bought frequently, so they can be easily remembered and added with a few clicks. Most grocery items are automatically grouped by area to save time in the store, and users can personalize the categorization of items by store and area to remember what to buy where. There are even free printable grocery coupons that are suggested based on what users add to their grocery lists. When it's time to go shopping, people can print out grocery lists, organized by area and store, or view and check off items on a smart phone in the store.
All these features are free, and there is a premium service, Say Mmm Plus, with additional time-saving features. With Say Mmm Plus, users can integrate their meal plans and recipes with their grocery lists, so a grocery list can be automatically generated from a weekly plan. Grocery items just need to be added to a meal or recipe once, and then when that recipe is added to the grocery list, all the grocery items needed are automatically added and organized, including separating out pantry items to check. A grocery list for a whole weekly meal plan can be generated with just a few clicks, and there are new weekly meal ideas that users can just click to add to their meal plans and shopping lists.
"Computers are good at remembering and automating repetitive tasks, so as people use Say Mmm, more of the work of creating grocery lists is done for them," says Brian Hutchins, Say Mmm founder.
About Say Mmm
Say Mmm is based in Sunnyvale, CA and was founded by Brian Hutchins, a start up veteran with experience also at Google, Yahoo, and Colgate Palmolive.
# # #