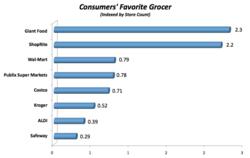 Low pricing is the tablestakes for grocers who must now find new ways to distinguish themselves from their competitors down the block
Boulder, CO (PRWEB) May 22, 2012
Giant Food is consumers' favorite grocer, followed closely by ShopRite and then Walmart, according to a new consumer study by Market Force Information, the world's leading customer intelligence solutions company. The panel research study, conducted in March with more than 6,400 participants, also uncovered why consumers prefer one grocer to another, among other insights.
When consumers were asked which grocery store captures the most of their dollars, eight grocers earned more than 2% of the vote, with Walmart, Kroger and Publix Super Markets landing in the top three spots. However, since grocery retailers have thousands of locations and others have a fraction of that, Market Force indexed the results by store count in order to get a more accurate representation of the results. This analysis moved Giant Food to the No. 1 position, closely followed by ShopRite, and then Walmart, Publix, Costco, Kroger, ALDI and Safeway. See Graph 1. This is a slight shift from 2011, when Kroger and ShopRite held the top two spots.
ALDI Wins on Price, Publix Shines in Service and Surroundings
The survey then asked consumers to rank the top eight grocery retailers on a number of attributes such as pricing, cleanliness, customer service, meat and produce quality, atmosphere and sustainable practices. Results showed that consumers perceive ALDI as the affordable price leader with Walmart, ShopRite and Costco coming in very closely thereafter. This is the second consecutive year that ALDI came out ahead on price. However, ALDI is able to achieve its low prices by sticking to a limited selection of merchandise, and consumers give ALDI the lowest ratings for that dimension as well as for natural/organic options.
"The close scores in the pricing category demonstrate that consumers are not seeing differentiation on price as clearly as the price leaders would hope," said Janet Eden-Harris, chief marketing officer for Market Force. "Low pricing is the tablestakes for grocers who must now find new ways to distinguish themselves from their competitors down the block."
Publix fared well when it came to other store attributes, scoring highest among the pack for inviting atmosphere, courteous staff, quality produce and cleanliness. Walmart ranked highest for being a one-stop shopping destination, but was last in providing high-quality meat and produce and having a courteous staff. The top wallet-share winners – Giant Food and ShopRite – scored middle of the road in most of the attributes. There was also very little variation in categories such as private label brands, which may be an area for grocers to differentiate. See Graph 2.
Decisions of Convenience
Market Force's study revealed that location and price are the main reasons consumers shop where they do, but they're not the only driving factors. Operational excellence—the ability to execute on factors such as cleanliness, courteous staff and fast checkout – also plays a large role. When it comes to the food itself, high-quality produce is more important to shoppers than high-quality meat. And, despite a recent industry-wide emphasis on sustainability, it was only significant to 7% of respondents. See Graph 3.
Market Force also asked consumers which grocery departments are most important to them. The deli, butcher and bakery took the cake with the highest rankings. They were followed by flower/gift department, pharmacy and, interestingly, Redbox or the ability to rent movies.
Delighted Customers Six Times More Likely to Recommend
The good news for grocers is that most shoppers said they were satisfied with their recent grocery shopping experiences. In fact, 88% said they were either somewhat or very satisfied, and a mere 12% of consumers said they were either neutral, dissatisfied or not at all satisfied. For those who reported dissatisfaction, the most common reason given was long check out wait times (52%). Second on the list was the inability to find a desired item (48%), poor cashier service was third (39%) and produce quality fourth (29%).
Does satisfaction lead to recommendation? The data points to yes. Of those who rated their experience a 5 on a 5-point scale, 70% said they were highly likely to recommend the grocery store to another person. For those who rated it 4 points—just a one-point difference—only 11% said they were highly likely to recommend. That's a 6 times difference in the propensity to recommend, showing the importance of creating an experience that delights consumers and keeps them coming back in the door.
"We discovered that merely satisfying customers isn't enough to move them to action," said Eden-Harris. "When grocers can create experiences that truly delight customers, they can establish brand advocates who are almost guaranteed to recommend that grocery store to friends and family."
Survey Demographics
The survey was conducted in March 2012 across the United States and Canada. The pool of 6,428 respondents reflected a broad spectrum of income levels, with approximately 70% reporting household incomes of more than $50,000 a year. Respondents' ages ranged from 19 to more than 65. Approximately three-quarters of respondents were women - the primary household consumer purchasers – and 73% reported working full or part time. Half of the respondents have children at home and two-thirds are married.
About Market Force Information
Market Force is the leading global customer intelligence solutions company for multi-location businesses, including major retailers, restaurants, grocery and convenience stores, financial institutions, entertainment studios and consumer packaged goods companies. With more than 125 years of combined industry experience, Market Force Information has pioneered the industry with a suite of customer intelligence solutions – from 600,000 field associates across North America and Europe who conduct mystery shopping, merchandising and retail auditing, to real customer surveys and proprietary decision-support tools. Its solutions provide a holistic view of the customer's on-site experience and identify the actions required at the store level to increase customer loyalty and improve financial performance. Market Force was named one of Forbes' America's Most Promising Companies in 2011. For more information, visit http://www.marketforce.com.