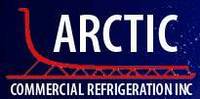 When we close a store, we leave it broom-swept clean
Seattle, WA (PRWEB) February 17, 2010
Providing sales, storage, and transport services for both new and used grocery store equipment for more than twenty years, Arctic Commercial Refrigeration now expands their offerings, opening an online store and a 2700 square foot showroom at their Gold Bar location. They have also increased the stock available in the showroom at the Sechelt, British Columbia, office.
Serving customers in both the US and Canada, Arctic Commercial Refrigeration facilitates the sale of used grocery equipment, such as walk in coolers, bakery equipment, display cases, freezers, commercial grade deli equipment, and more. They can also order new grocery store equipment for customers looking to buy a new walk in cooler or other new commercial refrigeration equipment.
"Our customers are typically small business owners getting started. If they need to cut costs by buying used or refurbished grocery store equipment, we can help them. We also have the experience to help larger grocery chains replace equipment during a relocation or remodeling project," explains Theresa Westerlin, associate at Arctic Commercial Refrigeration.
In addition to buying and selling the equipment, Arctic Commercial Refrigeration also provides the storage, pick-up and transportation service necessary for the closing of a store, a remodeling, or relocation. They service large chain grocers, as well as mini marts, bakeries, and even restaurants.
"When we close a store, we leave it broom-swept clean," adds Anna McCulla, Manager. By providing closure services, Arctic Commercial Refrigeration acquires the used commercial refrigeration equipment and other grocery store equipment and features, and can then pass along the savings to other clients.
To view the inventory, or to find out more about their array of services, visit Arctic Commercial Refrigeration.
About Arctic Commercial Refrigeration:
James R. McLeod, President and Owner, has been in the commercial grocery equipment industry for more than 25 years, working in both the US and Canadian markets.
Arctic Commercial Refrigeration has been operating for over 20 years and is headquartered in Seattle, WA. They house an equipment yard and storage facility in Gold Bar, WA, and a sales outlet in Sechelt, BC, Canada. Now, they have expanded their efforts to include an online outlet for sales of commercial grade equipment. They are fully licensed, insured, and bonded.
###