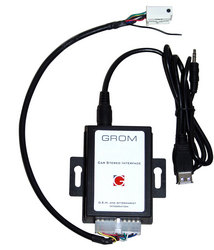 San Mateo, California (PRWEB) August 13, 2008
GROM Audio (http://gromaudio.com), a developer and a manufacturer of in-car multimedia technology solutions, announces new GROM USB Car Interface (Adapter) that allows listening audio files directly from USB flash/disk drive using original car stereo system. Developed for fast-growing market of digital media, GROM USB Car Adapter is a great accessory for playing MP3, WMA and AAC files directly from any mass storage USB drive with no dedicated portable player. GROM adds USB port directly to a car audio system giving an ability to manage media through car stereo controls or steering wheel.
GROM USB Car Adapter enables you to bring your favorite media collection in a car, easily access it, shuffle songs, skip between tracks, and adjust volume -- all of this only with OEM car stereo head unit or multifunction steering wheel controls
An exclusive technology and best-in-class audio decoder brings up a new level of listening experience - clear sound not poisoned by long wires and media player line out drivers. Extended control capabilities allow managing thousands of songs limited only by USB device capacity. Just connect your USB memory stick to your car stereo system through GROM USB Car Interface and enjoy the ride!
Currently GROM USB MP3 Car Interface supports, Audi, BMW, and Volkswagen car stereos. It is planned to make it operable with Acura, Chrysler, Honda, Mazda, Mercedes, Škoda, and Toyota as from September 2008.
GROM USB Car Interface main features:

Crystal clear CD quality sound for MP3, WMA and AAC media tracks
Ability to control music via car stereo or steering wheel buttons
Direct connection to a car stereo via CD changer or extension port
Folders are treated as disks
Support of USB disk/flash drive/mass storage devices with FAT/32 file system
No sound quality is lost in wires or media player line out
More information about GROM USB Car Adapter is available at http://www.gromaudio.com/usb.html .
About GromAudio:
GROMAudio is an affiliate of X-MediaTech Corp.
Founded in 2004 X-MediaTech is a developer and manufacturer of in-vehicle infotainment solutions. The company is specialized in integrating digital devices (iPod, iPhone, MP3 players, USB, Car PC) into OEM car audio systems.
Contact: Helen Kouznetsova,
Manager
GROMAudio
Phone: 1-650-579-5939
Fax: 1-866-259-3054
###