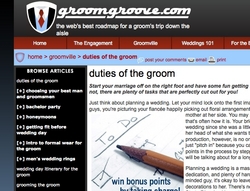 Grooms need not fear their wedding speeches like they fear their mothers-in-law.
New York, NY (PRWEB) July 21, 2010
Today, GroomGroove.com, the leading wedding website for grooms, the best man and wedding MCs announced the release of 'How to Make an Awesome Groom Wedding Speech' e-book.
The groom's wedding speech is frequently overlooked, and by the time a groom realizes he needs to prepare a wedding speech, it is often too late. Embarrassing speeches are the result. With a view to taking some of the fear out of public speaking on wedding day, and preventing colossal wedding speech screw ups, the guys at GroomGroove.com (including the founder, Michael Arnot, a former political speechwriter) wrote the definitive guide to the groom's wedding speech.
Says Aubree W. Smith, Creative Director, GroomGroove.com: "Given the downloads of our groom wedding speech book since launch, we know that guys want to make an excellent wedding speech that will make their mothers-in-law proud. Or, they simply want to make it off of the podium alive!"
The Groom Wedding Speech e-book is the fifth in a series of books for the groom and best man, and is available by instant download on GroomGroove.com.
"With over 100,000 unique visitors per month, GroomGroove.com has been recognized as a go-to resource for grooms and brides, having been featured in The New York Times, Fox News and by various wedding-industry media. Our wedding website and instant download e-books combine free information with paid content," says Smith. GroomGroove.com has partnered with Platinum Guild, Gold's Gym, Proctor & Gamble and other companies seeking to reach a new audience in the saturated wedding market.
About GroomGroove.com
GroomGroove.com is a comprehensive online engagement and wedding information source for the best man, grooms and wedding mcs, including wedding mc jokes and the best man speech. Launched in 2007 and edited by a team in New York, the site offers articles, lively comments, and videos, all from a guy's perspective.
###