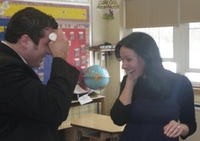 Joseph's story shows that while every great marriage proposal requires a bit of perspiration, it only takes good planning to make it go off without a hitch
New York, NY (PRWEB) May 28, 2008
GroomGroove.com, the leading engagement and wedding web site for men today announced the winner of the "She Said Yes!" marriage proposal story contest, sponsored by Gillette Clinical Strength. Joseph Lombino of Seaford, New York wins $1,000 in cash and a year's supply of Gillette Clinical Strength Antiperspirant.
In March 2008, Joseph proposed to Carroll Anne Kolakowski, a grade school teacher, at the school where she teaches. Says Lombino: "The kids in her class were in on it. They wore T-shirts that said 'I was there when Ms. Kolakowski got engaged. It was definitely nerve wracking, but she said 'YES!' even before I got to ask!"
To read the full winning marriage proposal story, click on the link.
"Joseph's story shows that while every great marriage proposal requires a bit of perspiration, it only takes good planning to make it go off without a hitch," said Aubree Smith, Creative Director, GroomGroove.com.
The contest garnered hundreds of great marriage proposal stories, ranging from restaurant marriage proposals, marriage proposals at sporting events and even marriage proposals made on airplanes. The majority of entrants proposed marriage in simple, but creative ways, and often spontaneously.
"We've found that guys like sharing just how creative they were. Our contest let them relive an important day in their lives," said Michael Arnot, Founder of GroomGroove.com.
As a result of the contest, GroomGroove.com is building the most comprehensive marriage proposals archive on the Internet.
About GroomGroove.com
GroomGroove.com is a comprehensive online engagement and wedding guide for men. The website features the most up to date information available for grooms, the best man, groomsmen, the father of the bride and groom, including information on grooms cakes and wedding tuxedos and diamond engagement rings. Groove Media LLC was founded in 2007 and operates http://www.GroomGroove.com
For more information contact:
Aubree Smith
aubree.smith @ groomgroove.com
(917) 734-9671
###