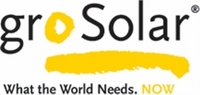 We cannot overstate our excitement as we bring the Zep Solar PV installation system to the North American market, starting with unprecedented nationwide training events held during one week.
White River Junction, Vt. (Vocus) April 1, 2010
groSolar, a national leader in solar power distribution and installation, today announced the much anticipated launch of the Zep Solar rail-free mounting and grounding system for residential solar electric installations. During National Zep Week, April 19-23, the first-ever nationwide training program of this size, groSolar will train hundreds of installers nationwide in 12 cities across the country.
"We cannot overstate our excitement as we bring the Zep Solar PV installation system to the North American market, starting with unprecedented nationwide training events held during one week," said groSolar CEO Jeff Wolfe. "The ZepTM System is transformational, a true game-changer for the industry that will dramatically increase the speed of solar adoption nationally by reducing cost and making solar system design and installation much faster."
"Our partnership with Zep Solar is great news for people working in solar, and is an important advance for the health of the green jobs industry in general," said Wolfe. "Our dealers now have access to the best and most efficient technology to respond to growing demand for solar nationwide."
The Zep System was initially unveiled at groSolar's booth at Solar Power International 2009 in Annaheim, CA last October. The industry's first rail-free, drop-in mounting and grounding system uses a special "Zep Compatible" frame on PV modules, removing the need for "rails" and extra grounding hardware, dramatically reducing the materials needed to install solar electric systems on residential rooftops and reducing installation time by more than 50%.
"Since our time trials have consistently shown a speed increase of 5X for module mounting as compared to conventional systems, we believe that Zep is the next major revolution in the PV industry," said Jack West, CEO of Zep Solar. "This belief is being confirmed by the amazing response that we are receiving from installers—with many commenting that the Zep System will be the most revolutionary installation method since cumbersome wiring methods were replaced by rapid MC style plug-together connectors."
The training program will consist of 12 one-day events across the country, including a hands-on installation component on portable demonstration roofs, as well as detailed information regarding system specifications and PV modules available today that are "Zep Compatible."
Interested installers can learn more about Zep Solar and National Zep Week at http://www.groSolar.com/ZepSolar.
The training-event locations and schedule is as follows:
April 19: Berkeley, CA – Phoenix, AZ – Washington, DC – Boston, MA
April 21: Simi Valley, CA – Albuquerque, NM – Raleigh, NC – White Plains, NY
April 23: San Diego, CA – Denver, CO – Orlando, FL – Philadelphia, PA
About groSolar
groSolar is North America's premier distributor, installer and integrator of solar energy solutions for residential and commercial installations. Founded in 1998, groSolar is the largest 100 percent U.S.-owned distributor in the solar industry, and is the fourth-largest installation company in North America. The company has offices and warehouses across the US, distributing solar electric and solar hot water systems from offices in VT, NJ, NY, CT, MA, MD, DE, PA, and CA. groSolar integrates components from leading solar manufacturers including Zep Solar, Canadian Solar, Solon, Motech, Heliodyne, SMA, Fronius, and UniRac into simple solar energy solutions for customers that generate clean, reliable energy for decades. groSolar is a mission-driven company dedicated to providing high quality solar energy solutions and whole energy appreciation. groSolar's venture capital investors include NGP Energy Technology Partners, SJF Ventures, and Calvert Social Investment Fund. Learn more at groSolar.com or call 800.374.4494.
About Zep Solar
Zep Solar, Inc. is an innovative manufacturer of new-generation PV installation technololy based in San Rafael, CA. Zep Solar offers the world's first auto-grounding, drop-in mounting system listed to UL standards. Zep Solar's is accelerating the adoption of solar technology by drastically reducing the costs associated with designing, shipping, wharehousing and installing PV systems. To learn more about Zep Solar, visit http://www.zepsolar.com.
Corporate Offices: 161 Mitchell Blvd. Suite 104, San Rafael, CA 94903
Telephone: (415) 479-6900 Fax: (415) 479-6901
Contact: Gaelan Brown, VP of Marketing
groSolar, Inc.
802.359.6528
802.295.4417 (fax)
Diane Zeigler
Kimbell Sherman Ellis, LLP
802-229-4900 x100
802-839+6520 (cell)
Photography Is Available
###