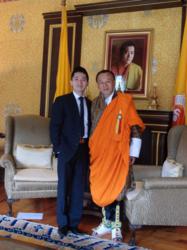 Thimphu, Bhutan (PRWEB) August 31, 2012
Joseph Law's social organization aims to increase happiness and well being worldwide. He is the author of Living Greatness: A Practical Guide to Living an Enlightened Life. The book is in collaboration with some of the leading minds in the world, including Jack Canfield (author ofChicken Soup for the Soul), Dr. Edward de Bono (author of Lateral Thinking), and Howard Cutler (author of The Art of Happiness). The book is embraced by celebrities from around the world and has reached over a million people through the media.
Being an international author of 'happiness', Joseph Law's interest in Bhutan's philosophy of Gross National Happiness made him travel all the way to this country in Asia, tucked away in the Himalayas. The theory of Gross National Happiness (GNH) was established in Bhutan by His Majesty, the King of Bhutan in 1972, and is the foundation for development in Bhutan. GNH has become the philosophical foundation for the policy making process and implementation in Bhutan. The country places equal importance on socio-economic development, spiritual, cultural and emotional needs of the people.
Joseph Law's entire trip was planned by http://www.BhutanTravelAgency.com and the agency helped in setting up a meeting for him with the Prime Minister of Bhutan and the IT minister of Bhutan. The Agency will soon release the memoirs of Joseph Law in Bhutan through its travel Bhutan blog available at http://www.TravelBhutan.com
The Prime Minister of Bhutan recently hosted a United Nations meeting on Happiness, openly sharing his experience and knowledge for the betterment of all. In his meeting with Joseph Law, he spoke about how the world can be a better place and how it is so important to embrace this ideology in today's rapidly changing world. The conversation is recorded and will be broadcasted soon. The interview would positively impact people from all walks of life and inspire them to a life of happiness and greatness.
The Prime Ministers views on GNH will potentially be distributed through Joseph Law's book and TV series/documentary. His book,Living Greatness, is available internationally in Australia, New Zealand, Hong Kong, the United States, and India. The Living Greatness TV series/documentary (Nobel Peace Prize Laureate Muhammad Yunus, the founder of Grameen Bank, was interviewed for the first episode) will be broadcasted to over a million people.
He is sought after by many Fortune 500 companies to serve as a speaker at seminars, training sessions and corporate events. As a consultant, speaker, and TV host, Joseph's work reaches a wide audience that includes small businesses, corporations, charitable organizations, universities, and government entities and so Joseph Law's meeting with the Prime Minister will significantly increase global awareness of Bhutan and their wonderful culture and noble values.