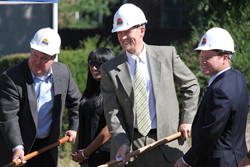 If these people didn't have vision and conviction we wouldn't be here today.
Draper, UT (PRWEB) September 23, 2011
Wednesday morning at 700 E. and 11693 S. brought out prominent members of the community and state government as the Christensen Law Firm, PLLC broke ground on its new office building. The event saw Representative LaVar Christensen of the Utah House of Representatives, Bill Rappleye from the Draper Chamber of Commerce, several Draper City Council members, and other Draper business owners to name a few.
Kenneth Christensen, founder of the Christensen Law Firm, said in his comments prior to the ground breaking ceremony, "We wanted to build something here that we could be proud of and would add to the City of Draper."
As the headquarters of the Christensen Law Firm has continued to grow, the company determined that it was time for a building of its own. The Christensen Law Firm specializes in personal injury with a focus on providing compassionate service to injured victims of car accidents, dog attacks, bicycle accidents, and wrongful death. However, the firm has done more than provide excellent service to its clients. The company's expansion has brought and will continue to bring more jobs to the area as well as the firm's charitable programs to the community.
Mr. Rappleye commented that, "One of the things every city needs to have is people with vision. The future is a hard thing to see and that's why people tend to say what you want to do can't be done, especially in times like these. You need conviction to go forth and achieve because of all the naysayers. If these people didn't have vision and conviction we wouldn't be here today." Representative Christensen continued, "You do things in your life…and you don't know if they are right because of the obstacles you meet. But, that's what makes you better. This is a great thing for the city and for this law firm. I'm proud to be a footnote to this moment."
The building is expected to be completed in the summer of 2012.