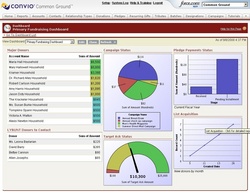 Our charter program clients have been delighted with the simplicity, flexibility and functionality of Common Ground
WASHINGTON (PRWEB) September 17, 2008
"Our charter program clients have been delighted with the simplicity, flexibility and functionality of Common Ground," said Gene Austin, CEO of Convio. "By listening to the needs of nonprofits, then bringing innovation, technology and our vast experience in serving the needs of the market together, Common Ground delivers on their need for a simpler, more affordable, and better way to manage relationships."
Harnessing the power of cloud computing, Common Ground is delivered as a service via the Internet to provide a better, more efficient way to build and manage constituent relationships. The evaluation process, ownership experience and the application put the nonprofit in charge by changing the rules for the way nonprofits try, buy and use software to derive value from their most important data. Through "clicks, not code" people across the organization can scrutinize performance metrics, view the most accurate information possible and measure results using an intuitive tool designed for real people, not developers. The innovative approach and technology behind Common Ground removes the limitations, inflexibility, hassles and headaches of legacy donor database systems. Nonprofits no longer pay to store and maintain information; they use technology to build relationships, manage resources and move people in ways that change the world.
NONPROFITS ASKED, COMMON GROUND DELIVERS
Common Ground takes the data from all of an organization's departments and makes it work together so that nonprofit professionals can better utilize people, time and funds to grow the community impact of their mission. The interface was designed after research on simplicity, flexibility and the way nonprofit professionals, not programmers, need to work from day-to-day. With customizable dashboards for executive directors, development and event professionals, volunteer managers, and finance professionals to name a few, Common Ground provides constant updates on performance metrics and mission critical information, to better use the resources and relationships the nonprofit has. The features, functionality and SaaS platform behind Common Ground create a better, more efficient and cost-effective way to acknowledge, maintain, foster and grow relationships with those people who care for and are touched by an organization.
Some of the features offered by Common Ground include:
Donor Management – track gifts from any source and build revenue forecasts based on pledge and planned giving commitments. Use batch-entry or data import tools to add gifts in bulk and find prospective donors and monitor major donor opportunities from one application. Create and share custom graphic report dashboards to monitor results or use automated email notifications to alert key staff with gifts matching and/or pre-determined life event criteria are received.
Relationship Management – group individuals by households and organizations and track relationships to create a complete profile of constituents. Establish donation soft-credits based on specific relationships and share address information between household members easily with a single click. Track all interactions to individuals, whether 1:1 or from targeted bulk campaign outreach and aggregate the giving summaries for constituents and households.
Convio Online Marketing Integration – "hands free" automated data synchronization with Convio's online marketing products to exchange all profile record changes and summary values and download all major online interactions to Common Ground. Use Convio duplicate management tools to maintain data integrity and reduce the introduction of dupes. Cross-referencing features allow for the automatic linking of offline and online campaigns for reporting and share segmentations to support targeting communications.
Custom Reporting – use a simple wizard-based report builder to start from scratch or clone an existing report then customize for the unique needs of an organization. Define summary counts, record groupings, report columns and graphs then use simple field-based criteria or advanced filters with time-period criteria and then share with other team members or keep private.
Common Ground helps bring together today's more highly-developed communications techniques and channels with people and resources so nonprofit professionals can focus on their mission and results.
"The days of software getting in the way of collaboration within an organization and across multiple channels are over," said Austin. "Common Ground can help break down departmental silos by pulling together information from across the organization. It provides the functionality that most nonprofits need and actually use and delivers it through an easy to use, flexible tool. Because it is built on open technology, nonprofits have the ability to integrate with mobile technology, social networks and other applications that today's nonprofits and the modern constituent demand."
CHANGING THE RULES FOR NONPROFIT CONSTITUENT RELATIONSHIP MANAGEMENT TECHNOLOGY
"Nearly a decade ago, we pioneered the use of the SaaS model to help nonprofits build relationships and drive results using the Internet," added Austin. "Today we are adding to that proven model, with a simple, flexible CRM solution that is capable of serving the entire organization, not just one department. The technology hassles and additional costs of legacy systems and the days of being restricted by the features and innovations of a single vendor are a thing of the past."
Common Ground is the latest generation of products and applications from Convio built using the SaaS model.
Common Ground is built and delivered natively on salesforce.com's Force.com Platform. Salesforce.com is the market and technology leader in SaaS and Platform-as-a-Service (PaaS) with more than 47,700 customers.
"Convio is helping nonprofit executive directors, development and marketing professionals, and IT leaders recognize the innovation, time-to-value and ease-of-use that is possible with cloud computing," said Clarence So, Chief Marketing Officer, salesforce.com. "By building Common Ground on the Force.com Platform, and making it available on the Force.com AppExchange, Convio is continuing a strategy of Software as a Service success not only for nonprofit organizations, but for developers and partners as well. In the end the communities those organizations serve through programs and services will benefit from improved efficiency and effectiveness."
PRICING AND AVAILABILITY
Common Ground pricing begins at $100 per named user seat per month. All purchased seats receive access to all support resources with no limitations. Interested organizations can register for a 30-day free trial and begin using the software immediately.
Readers can visit http://www.convio.com/commonground to watch a demonstration video, read more about the benefits of the SaaS model, begin a free trial of Common Ground or request a free consultation from a Convio representative. They can also call 888-528-9501 x1 to speak to a representative.
LIVE WEBCAST LAUNCH EVENT
Convio will be hosting a live webcast launch event and demonstration at 4:00 p.m. Eastern Time/1:00 Pacific, today. Mr. Austin will be joined by representatives of the Salesforce.com Foundation and leading nonprofits to introduce and demonstrate Common Ground.
The event can be viewed live today at: http://www.visualwebcaster.com/commonground.
Replays are available at the same URL beginning Thursday, September 18, 2008.
About Convio
Convio is the leading provider of on-demand constituent relationship management (CRM) software and services that give nonprofit organizations a better way to inspire and mobilize people to support their organization. The company's online marketing suite offers integrated software for fundraising, advocacy, events, email marketing and web content management, and its Convio Common Ground™ CRM system helps organizations efficiently track and manage all interactions with supporters. All Convio products are delivered through the Software-as-a-Service (SaaS) model and are backed by a portfolio of best-in-class consulting and support services and a network of partners who provide value-added services and applications focused on the unique needs of nonprofit organizations.
Convio clients include nonprofit organizations, Institutions of Higher Education, Associations and Faith-based organizations around the world such as American Red Cross, American Diabetes Association, American Society for the Prevention of Cruelty to Animals, Humane Society of the United States, Easter Seals, National Multiple Sclerosis Society, Susan G. Komen for the Cure®, Sierra Club, and National Public Radio. For more information, please visit http://www.convio.com.
About the Force.com Platform and AppExchange
The Force.com platform (http://www.force.com/) reinvents the traditional development, deployment and distribution of any business application. Developers, customers and partners can use Force.com to easily create and deliver a new generation of Software-as-a-Service applications. Force.com allows applications to be easily shared, exchanged and installed with a few simple clicks via the Force.com AppExchange marketplace, enabling all the innovation that Force.com unleashes to be easily distributed to the entire Software-as-a-Service community.
The Force.com AppExchange economy continues to expand, with thousands of customers installing applications via the AppExchange. Customers of all sizes can quickly and easily extend the benefits of Software-as-a-Service business applications throughout their enterprises using the Force.com AppExchange, found at http://www.salesforce.com/appexchange/.