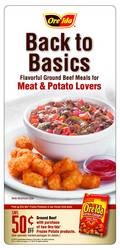 The program allows us to provide our consumers with delicious comfort food recipes during the winter months at a great value.
Wichita, Kan. (Vocus) February 25, 2010
America's love affair with meat and potatoes is as strong as ever, and a new promotional partnership combining Cargill ground beef with Ore-Ida® potato products provides grocery retailers a flavorful comfort food combination. The program includes helpful recipes and discount coupons, to entice consumers during the late winter and early spring months.
The "Back to Basics" promotion runs from Feb. 15 to April 5, 2010, and will be featured at more than 1,800 retail grocery locations across the country.
Even throughout the economic challenges in recent months, a look at consumer insights shows that the "financially pinched shopper certainly does not replace the time-starved consumer," according to the Food Marketing Institute, and that food suppliers and retailers must create solutions to meet these newly combined consumer demands of less time and saving money. This collaboration is part of Cargill's ongoing and ever-evolving effort to cater to consumers' love of ground beef while providing cost-effective, timesaving meal solutions. The promotion with Ore-Ida potatoes includes recipe pads displayed at the ground beef case, featuring four hearty meat and potatoes meals:

Shepherd's Pie
Beefy Mushroom Stew
Cheesy Sloppy Joes
Cowboy Meatloaf & Potato Casserole
"We're extremely pleased to get 'Back to Basics' by pairing our ground beef with Ore-Ida potatoes, a fun and trusted brand," said Elizabeth Gutschenritter, Cargill brand manager. "Sales of both ground beef and frozen potatoes are up, so this collaboration makes sense in that it highlights affordable, easy-to-prepare recipes incorporating both popular products."
According to Gutschenritter, Cargill seeks and develops complementary product partnerships like this because of the many benefits they provide for the partnering product manufacturers, retail partners and consumers alike.
With nearly 70 percent of the population consuming ground beef an average of 2.3 times every two weeks, according to the National Cattlemen's Beef Association, the fresh meat case and, specifically, ground beef, make a powerful partner for complementary products, Cargill points out.
"We actively work with our partners to design a customized promotion for them that helps raise awareness, drive trial and increase volume for their brand as well as our own products," Gutschenritter added. "Cargill's promotional partnership opportunities help place brands such as Ore-Ida potatoes in one of the most coveted, high-traffic retail grocery positions available, the fresh meat case."
"We are excited to be partnering with Cargill on the 'Back to Basics' program," said Wendy Joyce, vice president, Ore-Ida brand. "The program allows us to provide our consumers with delicious comfort food recipes during the winter months at a great value."
The promotion with Ore-Ida potatoes continues Cargill's innovative efforts to provide value-focused ground beef resources – beyond just the product – for consumers. A coupon on ground beef packages offers $0.50 off ground beef with the purchase of two Ore-Ida products.
The joint Cargill–Ore-Ida promotion also offers a variety of support for retailers including point-of-purchase materials – with dual placement at both the fresh meat case and in the freezer aisle – that create awareness and draw shopper attention. In-store materials at the meat case include large and mini T-stand posters, 90-degree signs, recipe pads and on-pack coupons on ground beef. Freezer door clings are located near the Ore-Ida products in the frozen food section.
About Cargill
Cargill is an international producer and marketer of food, agricultural, financial and industrial products and services. Founded in 1865, the privately held company employs 159,000 people in 67 countries. Cargill helps customers succeed through collaboration and innovation, and is committed to applying its global knowledge and experience to help meet economic, environmental and social challenges wherever it does business. For more information, visit http://www.cargill.com.
About Heinz
H.J. Heinz Company, offering "Good Food Every Day"™, is one of the world's leading marketers and producers of healthy, convenient and affordable foods specializing in ketchup, sauces, meals, soups, snacks and infant nutrition. Heinz provides superior quality, taste and nutrition for all eating occasions whether in the home, restaurants, the office or "on-the-go." Heinz is a global family of leading branded products, including Heinz® Ketchup, sauces, soups, beans, pasta and infant foods (representing over one-third of Heinz's total sales), Ore-Ida® potato products, Weight Watchers® Smart Ones® entrees, T.G.I. Friday's® snacks, and Plasmon infant nutrition. Heinz is famous for its iconic brands on six continents, showcased by Heinz® Ketchup, The World's Favorite Ketchup®. Information on Heinz is available at http://www.heinz.com.
###