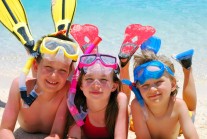 Trying to please all the group members is a difficult task since there is usually different ages and interests
Destin, FL (PRWEB) February 13, 2012
Planning a group vacation is fun, stressful and rewarding all at the same time. Trying to please all the group members is a difficult task since there is usually different ages and interests. Destin is a great destination to visit because there are so many different things to do that appeal to kids, teens, adults and seniors. When planning a group visit to Destin, here are some top activity recommendations that are sure to please.
1) Dolphin Tours - Dolphin tours are inexpensive, educational and exciting. There are several different ways to see dolphins, but its best to tour on a larger yacht that can accommodate larger group sizes. Certain vessels in Destin can take up to 150 passengers such as the Miss Florida or Hannah Marie.
2) Fishing Charters - There are all sorts of fishing charter companies that can accommodate both small and large groups. Charter fishing has been a Destin favorite for many years and visitors come from all over to fish. It's best to book a private charter to guarantee a time and day, but the bargain hunters seek the head boats (aka party boats) for great prices. Head boats can typically take up to 50 passengers, but it can be pretty tight.
3) Snorkeling Tours - Snorkeling on the Destin Jetties is a great group activity that allows everyone to get wet and explore. There are several different companies that offer tours in the Destin area and most vessels can accommodate group sizes of 30 or more. It's typically a better deal when the entire boat is booked opposed to buying individual tickets.
4) Waterpark - Big Kahunas is Destin's only waterpark, but it's perfect for groups of all sizes. The waterpark has several amenities for groups including an open area for picnics, lockers, group attendants and on-site catering. The waterpark has over 40 different water attractions, miniature golf, go carts and thrill rides.
5) Beach Photography - Don't leave Destin without getting the perfect group photo. Hire one of Destin's professional photographers for a beach session.
About TripShock.com
TripShock!® is the one and only travel agency that enables travelers to book hotels, tours, and activities online directly for the Northern Gulf Coast. TripShock! offers trusted reviews from real travelers, photos, videos and other planning tools to help create the perfect Gulf Coast vacation. TripShock! attracts more than 500,000 visitors annually and partners with over 100 activity and lodging providers from Florida to Louisiana.
###