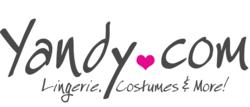 PHOENIX, Ariz. (PRWEB) October 15, 2012
The Halloween season has arrived and those looking for Halloween group costume ideas will find several funny, cleaver and cute costumes conveniently grouped together by theme at Yandy.com.
Yandy.com, online retailer of lingerie and Halloween costumes, notorious for unique costumes, is offering customers an extra benefit by featuring funny group Halloween costumes located on Yandy's "Group Costume Ideas" page. Some of the most popular group Halloween costume ideas this 2012 season is the Sexy Fruit costumes group which includes the Sexy Banana, Sexy Strawberry, Sexy Watermelon, Sexy Pineapple, Sexy Grapes, Sexy Lime and Sexy Orange costumes, all of which are Yandy exclusives.
Yandy's group costume ideas do not end at fruit. Other popular group costume ideas include Sexy Childhood Cartoons, Adorable Bears and Magical Pony costumes. More traditional Halloween costume group ideas are available too like Zombies, Pirates, Sailors and Vampires to name a few.
In addition, Yandy.com shoppers can create their own group costume idea. To do so, customers just go to the group costumes ideas page and select the "Create Your Own Group" link, enter some basic information along with the costumes they would like included in their group costume idea and submit it for approval. The Yandy team approves new group costumes daily so customers often see their creations live on the Yandy site the very next day.
Not only are there endless group costume ideas to look through, but every Yandy shopper also receives free, flat rate shipping on orders over $70 as well as a free panty with every order. Whether it is funny, sexy, spooky or ornate, Yandy.com offers something for every type of shopper looking to partner up this Halloween.
About Yandy.com
E-commerce is on the rise and Yandy.com is one of the largest online retailers of lingerie, sexy Halloween costumes, swimwear and clothing on the web. Founded in 2003, Yandy boasts more than 6,500 products always in stock at easily affordable prices. Yandy ensures that every customer will receive a safe, secure and private online shopping experience and is backed by COMODO online security and Google Checkout. Yandy is dedicated to customer service and only sells what is in stock which allows for quick, same day shipping. Offering the highest quality products at the most affordable prices in the market, Yandy has become a leader in e-commerce. Yandy works closely with all of the manufacturers they distribute for and hand select all of the items on the Web site to ensure customers have the largest and most diverse collection to choose from. In addition, the customer service team at Yandy is unrivaled. With attentive and helpful operators, should a question or problem arise, the customer service team at Yandy is always willing and able to assist. At Yandy, every customer can Be Sexy.
###