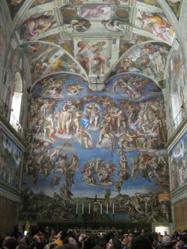 No matter the type of group trip you are planning, our professional group travel planners are on-hand to assure you that even the smallest of details are arranged.
Moonachie, NJ (PRWEB) September 12, 2012
Central Holidays, a leading tour operator for Italy vacations and the Mediterranean, is offering a booking bonus of a $500 gift card that applies to new group bookings made with a deposit by October 31, 2012. The gift card reward is based on a minimum of 25 passengers with a minimum 5-night stay. In addition, free tour conductor and/or commission apply based on group size and program. Offer is not valid on 'Great Value Group Programs' or on 'Friends & Family Programs' for which other promotions apply.
Whether the group vacation is looking to immerse itself in a country's beauty, gastronomy, history and culture, or experience the excitement of world-class skiing, or enjoy a leisurely river cruise in Europe or Egypt, or discover the Mediterranean's Ionian and Aegean Seas during the group's Greece vacations, Central Holidays group programs can be customized to meet those needs.
Group tour themes are as diverse as travel destinations across the globe Here's a look at some ideas:
RELIGIOUS THEME: Today's men and women are increasingly seeking spiritually rewarding personal experiences. Consider a travel program with a themed itinerary that visits religious sites throughout Europe and the Mediterranean, where travelers can visit the Basilica of St. Anthony, the Bridge of Sighs, the tomb of St. Francis, St. Peter's Basilica, the Vatican and other religious sites of the Christian, Jewish and Islamic world in the Holy Land, Italy, France, Spain and Portugal.
CULTURAL & EDUCATIONAL JOURNEYS: Cultural and educational experiences are perfect for travelers seeking knowledge and understanding of a foreign culture beyond the scope of the traditional sightseeing tour. Highly-respected art historians, archaeologists, musicians and scientists will unveil Europe's charming cities and waterways, sharing insights and exposing you to the local flavor, history, art, cuisine, music and rarely-seen sides of all destinations along the way.
FOOD & WINE EXCURSIONS: Explore the wine cellars of France, sample the famous parmesan cheese and prosciutto di Parma of Italy, indulge in the savory paellas of Spain, and take cooking lessons in the undiscovered culinary destination of your choice. Wine and food lovers are guided through fascinating gastronomic experiences as they eat and drink their way through the enchanting countries of Europe, creating cherished travel memories as they go.
ART & ARCHITECTURE: Visit the famous museums of Europe and the Mediterranean- Florence, home of the Renaissance and a living museum itself, with the Uffizi Museum; the Prado in Madrid; the Louvre in Paris. See the villas and castles that have dotted the countrysides over hundreds of years: Italy's Paladian Villas in Vicenza, and Villa d'Este in Tivoli; Versailles and the chateaux of the Loire Valley in France; the Alhambra in Spain; the Schonbrunn in Vienna, Neuschwanstein in Germany, Edinburgh in Scotland. These treasures and so much more are waiting to be explored.
ALPINE ADVENTURE: Experience the excitement of world-class skiing in breathtaking beauty with ski and snowboarding programs to exquisite European resorts in the Alps of Italy, Austria, France, Switzerland or Germany, including such renowned resorts as Cortina, Courmayeur, Innsbruck, Chamonix and St. Moritz. Or, have your group embark on a North American ski vacation to destinations from the Canadian Rockies and Eastern Canada to Aspen, Vail and Lake Tahoe in the United States - all of which provide exhilarating ski resorts and exciting cities that translate into dream ski vacations in the snow.
"We're eager to assist you in making your group tour a success in every way," explained Gianni Miradoli, C.O.O. for the Central Holidays Travel Group. "No matter the type of group trip you are planning, our professional group travel planners are on-hand to assure you that even the smallest of details are arranged."
For additional information and sample group themes and itineraries available through Central Holidays, please call 800-935-5000 or visit them online at CentralHolidays.com.
About Central Holidays:
Europe vacation packages, Europe vacation deals, Spain vacations, and Italy vacations: founded in 1972, Central Holidays offers superior travel programs, value and service to enchanting destinations throughout Italy, Spain, Portugal, France, Greece and Turkey, plus dozens of Mediterranean and European River Cruise itineraries and worldwide Ski programs! For more information, contact Central Holidays at 1-800-935-5000 or visit their website at CentralHolidays.com.
Contact:
Anthony Berardo
Berardo Marketing Group, LLC
201-970-7698
bmg-website.com