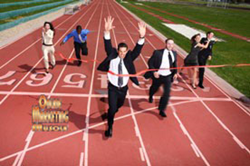 A winning mindset is to approach networking as a game or a team sport
Hauppuage, NY (PRWEB) May 21, 2013
The National Conference of State Legislatures released its monthly report on May 3rd 2013. It reported business sectors seeing job growth in April were business and professional services, leisure and hospitality, retail trade and health care.
With numbers like these, small business owners and business professionals across the United States are finding that competition is stiff, and the fight for market share is at an all-time high! To compete, business owners are looking to find new ways to stand out from the crowd through better marketing solutions. One of the most common paths business owners and business professionals start with is increasing their marketing presence by joining a networking group.
Online Marketing Muscle, a Long Island NY based internet marketing firm, led by Dean Mercado (President) and Bill Baylis (COO), focuses on helping business leaders find advanced networking strategies and creative marketing solutions. This includes guiding those new or struggling with the networking group scene to learn the best business practices and methods of gaining networking support, and turning those leads into profits. It is with this thought in mind, that they announce the release of their blog series aimed at getting business professionals to play a bigger networking game.
Bill Baylis states, "Most people who fail in networking groups is due to the fact of not playing the networking game with the proper mindset." Dean Mercado follows up, "Bill is right, networking needs to be approached as a game or a team sport." Mercado had this to say about finding the proper place to network and improving your success rate, "Nothing happens in business without people…even as much as technology and social media are influencing what's happening in business today, it really does come down to people. Knowing how to network effectively is critically important."
Mercado adds, "Simply put, in business nothing happens without networking. Connecting with others personally is a powerful approach. A breakdown we notice happening is not selecting a group that has their target market within it. Understanding this can save everyone involved precious time and keep enthusiasm high."
The Online Marketing Muscle blog series has everything from basic networking group tips to strategic networking for the most advanced networker's.
The internet marketing blogs [In audio, video and written formats] go into detail with the following titles:
-Strategic Networking – A 3 Phase Approach
-How To Choose Where To Network
-Got the Networking Group Blues? Change The Networking Mindset!
The entire Online Marketing Muscle Free Blog Library on the topic of Networking can be found at http://www.onlinemarketingmuscle.com/category/marketing-strategy/networking/
Currently, to further better networking Online Marketing Muscle is also offering, for free, a copy of their three part audio seminar "Differentiate or Die – 3 Keys to Blowing Away your Competition" to anyone interested in joining the high paying, high stakes, world of networking.
Online Marketing Muscle® helps service-based small to mid-sized businesses, nationally, to leverage the power of the Internet to expand their credibility, visibility, and reach within their target market.
Dean Mercado, president of Online Marketing Muscle, is a respected marketing coach, strategist, author, and speaker.
Bill Baylis, COO of Online Marketing Muscle, is a business-turnaround expert. He has crafted a life's work from the creation of new revenue-generation methodologies, operational procedures, sales techniques, and marketing strategies for business.