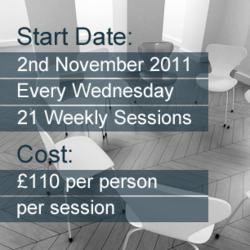 A number of studies have shown that psychological education Groups such as these halve relapse rates in sufferers of Bipolar Disorder for up to 5 years. They offer both knowledge and skill development for people living with the condition. - Dr Andy Zamar
London, UK (PRWEB UK) 14 October 2011
The Barcelona Education Group Therapy is a 21-session psychological education therapy suited for patients diagnosed with Bipolar Disorder who are stable. The London Psychiatry Centre is exclusively offering this group therapy which has been found to cut in half bipolar disorder episode relapse rates for up to five years. This is the only psychological intervention shown to have that effect.
Group Therapy Schedule:

Location: The London Psychiatry Centre
Start Date: 02 November 2011
Every Wednesday
21 Weekly Group Sessions
Cost: £110 per person per session
The groups provide an opportunity for patients to identify with each other and provide mutual support which may contribute to building wellbeing and self-esteem. There are also a number of sessions dedicated to spotting early warning signs of bipolar disorder episodes which may previously be familiar to participants, but only with hindsight.
Stress management, a key skill for preventing depressive, hypomanic, mixed and manic episodes, will be on offer together with strategies for staying on track and getting the most out of life.
An explanation of medication as well as non-medication based interventions (aimed at treating the condition) and the identification of harmful influences on the illness will also be included.
The great advantage of these groups is that they give a unique level of support and understanding, helping participants to lead a fully productive life. Relationships with family and friends may significantly improve and dividends often because apparent in patients' professional lives as the ability to manage the condition lessens conflict and misunderstandings.
The Groups are facilitated by a Psychiatrist and a Psychotherapist / Psychologist. Both are highly skilled in creating a safe and nurturing space where real progress can be made.
About The London Psychiatry Centre:
The London Psychiatry Centre at 72 Harley Street offers an innovative and integrated Psychiatric, Psychological and Therapeutic service that addresses every need associated with mental health of a patient.
###