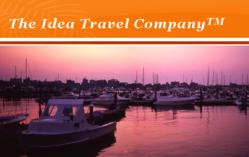 We help you plan your next adventure, whether it be a destination wedding or a warm relaxing Caribbean beach vacation
Los Altos Hills, CA (PRWEB) April 25, 2012
Bay Area travel agent, The Idea Travel Company features free, personalized concierge services, which started Feb. 27 and everyday thereafter from 6 a.m. until 7 p.m. This recent addition is another way to broaden its range of services that the travel company already provides clients.
The new service helps tourists prepare for their trips and cut time spent managing itineraries. If clients don't know where or how to begin scheduling a trip, The Idea Travel Company is ready to help with great suggestions to guide clients.
"We help you plan your next adventure, whether it be a destination wedding or a warm relaxing Caribbean beach vacation. The Idea Travel Company can coordinate your vacation and any activities you want to include. Leave the details to us and say goodbye to all your concerns," Mike Schoendorf of The Idea Travel Company said.
Idea Travel can fill in the missing pieces, ensuring every plan is doable within the constraints of the budget and time. Grand Caribbean travel, Mexican destinations or Hawaiian travel is easy at the Idea Travel Company. Want to go somewhere else but don't know where? Idea Travel can make suggestions on where to go and provide additional advice on how to make a vacation as memorable as possible. The company connects clients to a vast array of specials that are easily searchable for last-minute travel or custom-tailored travel experiences.
For more information about its new personalized concierge services or any of Idea Travel Company's products or services, call 800-843-4332 or 650-948-0207, view the travel agents on the web at http://www.ideatravel.com, or visit 13145 Byrd Lane in Los Altos Hills.
About The Idea Travel Company
The Idea Travel Company is a travel agency in the Bay Area that has been providing tour packages around the world for more than 32 years. It has an extensive knowledge base for just about anywhere in the world and provides access to it to help future clients experience the beauty of traveling and the knowledge of what every country has to offer.