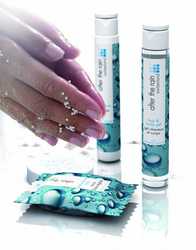 At a time when spa hospitality products are accounting for an increasingly substantial share of the market, this partnership with after the rain will enable us to extend our portfolio in conjunction with a growing and internationally recognised brand.
Paris, France (PRWeb UK) February 16, 2011
A leading international actor in the world of hospitality products for 30 years, Groupe GM is pleased to announce the signing of an exclusive contract with the Swiss spa brand after the rain, allowing it to produce under license its first hospitality products for the hotel sector. This line will complement the existing portfolio of Groupe GM, which has greatly developed its range of spa products in 2010.
"At a time when spa hospitality products are accounting for an increasingly substantial share of the market, this partnership with after the rain will enable us to extend our portfolio in a consistent way, in conjunction with a dynamic and growing brand that is internationally recognised," said Laurent Marchand, the President of Groupe GM.
Created in 2001 by Isabelle Nordmann, after the rain is a Swiss spa brand that is today available in six countries and almost 80 spas. For Patrick Saussay, CEO of after the rain, this partnership with Groupe GM is a perfectly natural step in the international development of the brand: 'Having hospitality products in our own name meets the expectations of our hotel customers. The synergy between the spa brand and the amenities is essential to the consistency of the upmarket luxury services which we offer. Groupe GM, as a leading worldwide actor in this sector, will help us to strengthen our global presence in relation to hotel chains and prestigious resorts.'
Taking inspiration from spas, the after the rain hospitality products are enriched with edelweiss, an alpine plant which is known for its anti-oxydising and soothing properties. The line consists of five 35ml bottles, two bars of soap of 25g and 45g, two 300ml Ecopump dispenser bottles and a matching presentation set. The after the rain line is a joint-creation developed by Groupe GM and Isabelle Nordmann, the founder of after the rain. It reflects the spirit of the brand and its values of creativity and authenticity.
About Groupe GM
Leading international player in the amenities industry for 30 years, Groupe GM designs, produces and distributes cosmetics and accessories for the hospitality industry in over 45 countries across every continent. Drawing on an international network of dedicated agents, Groupe GM distributes a unique portfolio of 30 cosmetic brands.
In addition to its own brands such as DAMANA, Groupe GM signs exclusive worldwide licensing agreements with recognised international brands, including luxury cosmetic brands and Spa brands. Groupe GM offers flexible, global solutions, enabling hoteliers to stand out from the crowd with their hospitality products.
http://www.groupegm.com
About after the rain
In 2001, Isabelle Nordmann founded after the rain, one of the first urban spas in continental Europe on the principle of individual customer care and personalisation of its services. Taking the lead from its prestigious head offices in the heart of Geneva, the Swiss brand today offers around forty different signature treatments for men, women, couples and children, as well as the 'Swiss Made' line of cosmetic spa products, available at its spas and on general sale. The expertise of after the rain shines through at its upmarket day spas, and partner or franchised hotel and resort spas.
As a pioneer in the field of luxury treatments, including treatments for couples, and as one of the very first to offer spas for children, after the rain is constantly innovating to offer enjoyable and effective treatments based on original natural recipes, creating a unique spa experience.
As of 2010, after the rain Switzerland is established in 6 countries (Switzerland, France, Russia, Turkey, Cyprus and Taiwan) with nearly 80 spas in total.
http://www.aftertherain.ch
Media contact (high definition photographs available on request):
Selene Alford
Hopscotch Europe in One
Tel.: +44 (0) 208 133 3140
Email: salford(at)hopscotch(dot)eu
# # #