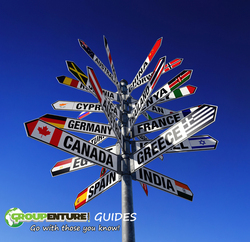 Groupenture allows travel, culture and adventure activity experts to trade their knowledge for free travel.
Edina, Minn. (PRWEB) February 16, 2011
Groupenture, the first group buying marketplace for adventure travel, announces the launch of its Groupenture Guides Program. Groupenture Guides is a unique opportunity for individuals with specific expertise about a destination, culture or activity to trade their knowledge for free Adventure Travel around the globe. Through Groupenture Guides an individual expert can select a trip at http://www.groupenture.com that matches their expertise. Using social media tools available on the site, the "expert" then markets this trip, and their expertise, to their social network and Groupenture's network of travelers. Once nine other travelers join the trip the Groupenture Guide travels for free.
"This is a fantastic opportunity for blog and community editors that are focused on travel, adventure activities, local culture and the arts," says Andrew Atkin, CEO of Groupenture, "Their readers already value their opinion. It's natural to think that their followers might want to travel with them to take advantage of their local knowledge."
Groupenture Guides don't have to be famous. Instead they need to have deep knowledge of the history or culture of the destination or the primary activity of the trip. To insure trip quality Groupenture Guides are evaluated through a screening process which begins with an application located at http://partners.groupenture.com/guides.php .
Groupenture is the first marketplace launched by UForce (http://www.theuforce.com ). Uforce is a technology company that applies proprietary group building and buying technology to create dedicated group buying marketplaces within high margin niche categories like Adventure Travel. During 2011 UForce will be launching three other marketplace categories. Uforce is a Minnesota-based company led by Andrew Atkin, a senior executive with 23 years of experience starting and re-starting companies. Atkin founded ClickIQ, an industry-leading market research technology platform that has been adopted by national brands.
###