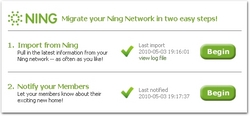 Grouply offers the only fully automated tool that allows you to import your Ning Network members and content, said Mark Robins, CEO of Grouply.
Redwood City, Calif. (PRWEB) May 4, 2010
Grouply — the company that helps you create, manage, promote and monetize a social group — today released a tool that helps Ning Network Creators quickly and easily migrate their networks to Grouply. A Grouply social group provides much of the same functionality as a Ning Network, including a customizable community website, event management, discussion forums, an activity feed, and an app store with dozens of useful applications.
"Ever since Ning announced that they would no longer support free networks, existing Ning Network Creators have been searching for a free alternative," said Mark Robins, co-founder and CEO of Grouply. "Grouply offers the only fully automated tool that allows you to import your Ning Network members and content."
"Importing my Ning Network members and content into Grouply took just a few minutes — it was quick and painless. There was no cumbersome process to request my files from Ning. I was able to do everything myself," said Dennis Hill, of the Kenmore Business Information Network. "I had control over how much to migrate, and when, so I could decide when to notify my members and minimize the disruption to my network."
Grouply's migration tool and the alternatives
Migrating to any system other than Grouply will be a difficult and time-consuming process. One option is to manually copy-and-paste network data from Ning into a new system. Another option is to use Ning's export tool (available in July) to generate a huge XML file and then figure out how to import it into the new system. Some Ning Network admins will write custom import scripts or hire an expensive consultant. Either option could take days or even weeks.
Grouply's Ning migration tool, by contrast, enables a Ning Creator to move a Ning Network to Grouply in minutes. After setting up a Grouply social group, Ning Network content and members can be quickly and easily imported. Then, with one click, group members can be notified about their new home. It's that simple. For more information, visit the Grouply blog: Ning-to-Grouply Migration.
Grouply upgrades the Ning Network
Grouply's social groups provide benefits not found on Ning Networks such as:

Comprehensive email interface. All content can be both posted and received via email, providing a convenient way to participate.
Group analytics. Gain useful insights into membership activities through charts and graphs that show the most active members, the most popular topics, and member participation over time.
Advanced website privacy. Make some pages public, some viewable by visitors, and others for members only.
Cross-group admin dashboard. Review and approve members and messages for all groups, in one location.
Grouply is perfect for small businesses, non-profits, associations, and clubs
With no programming required, anyone can use Grouply to:

Provide their group with a professional-looking website using pre-built themes that can be easily customized;
Make a group engaging with rich media, powerful applications, social activity feeds, and dynamic lists and charts;
Save time managing the group and gain useful insights into group dynamics via analytics;
Monetize groups by running ads and collecting membership fees, donations and event fees.
To learn more about Grouply, take a tour, or create a new social group on Grouply.
About Grouply
Grouply is pioneering the "social group" — a new type of online community that combines the best features of social networks and traditional discussion forums. Social groups offer the social interactivity, media sharing, and modern design of social networking sites like Facebook; and the rich discussions, popular email interface, and people-discovery opportunities found in discussion forums like Yahoo! Groups. With Grouply, you can create a new social group about anything you like or join a social group and connect with others who share your interests and passions. Existing Google and Yahoo! Groups get an "extreme makeover" on Grouply; each gets a modern, professional, fully customizable website that automatically interoperates with Google and Yahoo! Groups. Grouply was founded in 2006 and is funded by O'Reilly AlphaTech Ventures, SoftTech VC, and other prominent angel investors, including Reid Hoffman. http://www.grouply.com @grouply
###