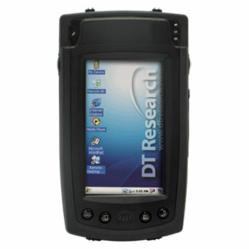 DT Research's rugged handhelds provide a durable mobile computing platform at a very affordable cost.
Chandler, AZ (PRWEB) May 24, 2012
Group Mobile, well known for carrying the top brands in rugged laptops, rugged tablet PCs, rugged PDAs, and rugged handheld computers has recently extended its product offerings to include the line of economical, rugged handheld computers from DT Research, Inc. DT Research point-of-service (POS) handhelds perform indoors, outdoors, and in harsh environments. They provide the precise features needed to streamline operations and improve productivity, data accuracy, and service. They are ideal solutions for mobile point-of-sales and service applications, inventory management, and many other field services.
"DT Research's rugged handhelds provide a durable mobile computing platform at a very affordable cost," stated Stephanie Kreitner, Marketing Director for Group Mobile. "With prices starting under $800 and a quick delivery time, we expect these rugged POS handhelds to be very popular among our handheld customers."
With DT Research's rugged handhelds, users can choose between Microsoft® Windows CE and Windows Mobile operating systems. DT Research handhelds integrate magnetic stripe readers, barcode scanners, and RFID readers in compact, rugged, and lightweight packages. They are IP54 rated for water and dust resistance with IP65 sealed front panel for extra durability.
The WebDT 430SC handheld POS features a 4.3" TFT-LCD outdoor-viewable touch screen display. It has an on-screen soft keyboard, integrated Bluetooth connectivity, and optional barcode scanner or RFID reader module.
The WebDT 415SC handheld POS features a 3.5" TFT-LCD touch screen with barcode reader, optional magnetic stripe reader, and optional RFID reader in a small and lightweight housing. It has integrated Bluetooth, WLAN connectivity and optional 3G/ GPS.
"We are pleased Group Mobile has added the DT Research handhelds to its product offerings," said Jeffrey Johnston, Sales Manager for DT Research. "Group Mobile's understanding of the rugged handheld market combined with the company's outstanding customer service will help both companies grow their handheld businesses."
To learn more and purchase a DT Research economical rugged handheld, visit http://www.groupmobile.com/brand.asp/dept_id=/mf_id=83.
About Group Mobile
Headquartered in Phoenix, AZ, Group Mobile serves customers all over North America. Customers range from Fortune 500 companies and the U.S. Military, to local police/fire/ambulance, to small and mid-size businesses, to the frequent traveler that needs something more durable than a commercial, off-the-shelf computer. Group Mobile carries the leading rugged computing brands. In addition, Group Mobile offers vehicle docking and mounting equipment from Gamber Johnson, Ram Mounts, and Havis/Ledco. To learn more about rugged computers and how they differ from commercial, indoor computers, check out the Rugged Computer Guide or visit us online at http://www.groupmobile.com.
About DT Research
DT Research™ (DTR) develops and manufactures web-enabled information appliances for vertical applications. The DTR family of products is based on thin computing platforms for secure, reliable, and cost-effective computing. DTR products include wireless tablets, point-of-service handhelds, compact modular systems, display-integrated information systems, and digital signage solutions. These systems emphasize mobility, wireless connectivity and touch displays. Powered by Windows® Embedded and Windows XP operating systems, DTR devices offer durability and ease in integration, leading to solutions that can be remotely managed with the comprehensive WebDT Device Manager software. For more information, visit http://www.dtresearch.com.